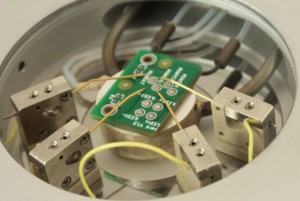 Specialists in temperature-controlled microscopy and manufacturers of advanced freeze-drying microscopes, Linkam Scientific Instruments, will again attend the European Materials Research Society annual meeting. To be held from the 18–20 September in Warsaw, Poland, the company will focus on a range of applications for their electrical stages.
Linkam will be show-casing materials characterization products at the annual fall meeting of the European Materials Research Society. This year, it will be held at the Warsaw University of Technology. The exhibition will run from 18–20 September.
Understanding how semiconductor materials and electronic components behave in different environmental conditions is vital to gaining an insight into their properties and uses. Linkam has been creating sample characterization solutions for the microelectronics and semiconductor field for many years. They design stages with accurate temperature control ranging from -196°C to 1500°C. The environment within the chamber can also be controlled, with the options of gas purging, controlled vacuum or humidity. To accommodate for electrical measurements, stages can also be fitted with a variety of electrical output connectors and gold-tipped tungsten needle probes.
The accurate temperature control and ability to combine with other analytical techniques such as Raman microscopy makes Linkam stages suitable for the study of perovskites and 2D materials. A group at the Technical University of Denmark used a custom-built probe stage to test the suitability of 2D materials as protective coatings for metals. The Linkam stage was used to simulate both a short and long-term heated oxidative environment in which the samples were placed. The quartz window of the stage allowed the users to follow the oxidation process through Raman microscopy.
The Linkam probe stage, the HFS600E-PB4, was used by a team from the Nanyang Technological University and Trinity College Dublin to study angular momentum states of perovskite materials. The set-up was ideal for performing low temperature Raman spectroscopy whilst probing the decay of angular momentum states. Another group in the Sichuan Normal University, China, synthesized a new lead-free perovskite while using the high temperature electrical stage, the TS1500E, to test the permittivity of the ceramic.
These stages have also been used in many cutting-edge fields of science, including liquid crystals, thin-film research and photovoltaics.
To learn more about Linkam and their approach to the development of temperature stages to address multiple applications challenges, please come and visit booth 9 at E-MRS in Warsaw or visit www.linkam.co.uk.