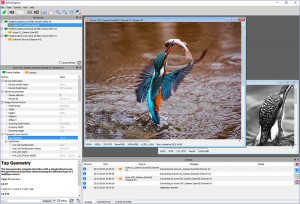 Active Silicon announces the launch of ActiveCapture – its latest front-end software for FireBird frame grabbers. The software provides optimized image acquisition, analysis and display by allowing the user to access and control all installed cameras and frame grabbers in a clear and intuitive manner.
ActiveCapture is a GenICam GenTL program that can be used with cameras supporting GenICam, such as CoaXPress, and Camera Link cameras using CLProtocol. It is also designed for use with non-GenICam Camera Link cameras.
Take advantage of ActiveCapture
Easy access and control of all installed cameras and frame grabbers.
GenICam Feature Browser shows all features and allows control of them.
Comprehensive image display features such as zoom and color sampler.
High bit-depth color and greyscale histogram functions.
2D and 1D Profile available.
TIFF & JPEG file formats supported among others.
Image sequence capture and playback.
Events Controller for controlling asynchronous events.
Command line utility for direct register access to the camera for debugging.
Whether you need to quickly prototype a hardware solution, evaluate a camera or demonstrate solutions to customers, ActiveCapture works with any CoaXPress or Camera Link camera and provides a simple and straightforward method to configure the system hardware, allowing control of various features of the image acquisition such as triggering and image resolution.

Full specifications for ActiveCapture and the complete range of Active Silicon's compatible frame grabbers are available on the website.