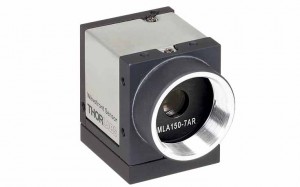 One trend in adaptive optics market is sampling of optical wavefront sensor for wavefronts at nanometric resolution. Wavefront sensors are an important part of most adaptive optics, which are used widely in systems ranging from optical coherence tomography (OCT), astronomical telescopes, and free-space communications to microscopy and ophthalmological instruments.
Hartmann-Shack and interferometric are the commonly used wavefront sensors. Researchers at the University College Dublin (Ireland) developed a wavefront sensor based on plasmonic quasiparticles. It can measure wavefront slopes across a beam of light at a nanoscale level. This is different from Hartmann-Shack wavefront sensors, which can sample the wavefront at lateral distances of more than 100 microm.
The following companies are the key players in the global adaptive optics market: Baker Adaptive Optics, Benchmark Electronics, Boston Micromachines, HoloEye Photonics, Sacher Lasertechnik, Synopsys Optical Solutions Group, and Thorlabs (Shack-Hartmann wavefront sensor shown in photo).
According to the adaptive optics market report the drivers increasing the market growth are continuous investment in military segment, increasing installation of CCTV cameras for surveillance, advances in satellite imaging technologies and growing satellite-based telemetry applications.
The challenges that the adaptive optics market will face are long life span of fiber lasers, uncertain global economic conditions and inconsistent foreign exchange rates.
The latest trends that the market would see is sampling of optical wavefront sensor for wavefronts at nanometric resolution, technological advances in airborne lasers and growing popularity of satellite imaging in disaster management.