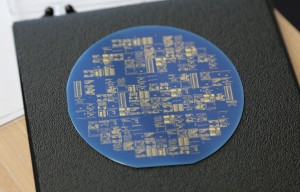 Smart Photonics, a pure-play indium phosphide (InP) semiconductor foundry, has announced the availability of an advanced InP process design kit (PDK) for photonic integrated circuit (PIC) design.
The Smart PDK has been developed for use in a PIC design flow composed of software tools from VPIphotonics of Berlin, Germany, and PhoeniX Software of Enschede, The Netherlands.
The new PDK is a complete PDK that includes parameterized compact models for use in VPIphotonics' circuit simulator, VPIcomponentMaker Photonic Circuits. The design flow enables designers to functionally capture their PIC design using a library of parameterized photonic building blocks targeted at Smart Photonics' InP process. The VPIcomponentMaker Photonic Circuits tool provides a scalable time-and-frequency-domain simulation framework for fast and accurate modeling of large-scale PIC designs. Its integrated simulator directly uses the compact photonic models from the Smart PDK to enable simulation of a mix of photonic, electrical and optoelectronic devices.
Orientations and connections of the circuit building blocks can be specified in VPIcomponentMaker Photonic Circuits and then passed to OptoDesigner, PhoeniX Software's parameterized photonic design tool. OptoDesigner uses foundry fabrication data, parameterized photonic building-blocks and an extensive set of design rules from the Smart PDK to synthesize a Smart foundry-compatible layout that meets Smart design rules and the designer's intent as specified during VPI circuit simulations.
The Smart InP PDK is targeted for SP21 (Smart Photonics Multi-Project Wafer run #21) slated for 1 June 2017, Software from VPIphotonics and PhoeniX Software is available now. The Smart PDK has been qualified with version 9.8 of VPIcomponentMaker Photonic Circuits and the newest release of OptoDesigner, version 5.1.