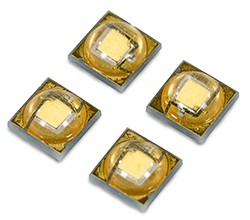 Excelitas Technologies, a global technology provider focused on delivering innovative, customized photonic solutions, introduces the new APOLED customizable single-chip LED package for surgical and dental lighting. It allows customers to select a specific white color temperature while achieving high color rendering index (CRI) for improved visualization of tissue during surgery or other medical procedures.
The customizable APOLED LED package can be used with any LED chip commercially available (monochromatic colors from 395 nm–1050 nm or white from 2500 K–7000 K). The package is small enough to enable high-quality color mixing for surgical lighting. Users can achieve high color rendering with tunable color correlated temperature (CCT) from 3300–6000K. Its high CRI offers the widest color spectrum possible. Lens or no-lens options support optical engineering design choices to optimize light capture.
The Excelitas APOLED LED package will be on display at COMPAMED Excelitas Exhibit: Hall 8B / K30, 13–16 November 2017 in Düsseldorf, Germany.