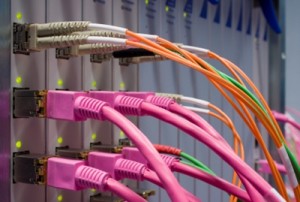 Researchers at Aston University's Institute of Photonic Technologies (AIPT) in the UK have joined a four-year European project that is aiming to dramatically increase the capacity of fibre-optic communications.
The "MODE-GAP" project, an €11.8 million effort that was funded through the fifth call of the European Commission's Framework Programme Seven (FP7), is over half-way through its term and is scheduled for completion in October 2014.
AIPT, which has a 50-strong team of researchers, joins a project led by the University of Southampton's Optoelectronics Research Center and featuring a number of industrial partners including Nokia Siemens Networks, Eblana Photonics, OFS Fitel Denmark and Phoenix Photonics.
According to Andrew Ellis, who will lead the AIPT participation in MODE-GAP, the team will bring its particular strength in computer modeling of optical communications to the project:
The MODE-GAP team is aiming to develop technologies capable of providing networks with at least 100 times the capacity of today's deployed fibre-optic systems.
Historically, the capacity of those networks has been extended by increasing the number of wavelengths of light transmitted through the fibre. But the explosion of mobile data demand, in particular driven by video streaming to smart phones and tablets, is threatening a communications bottleneck.
With conventional fibre-optic technologies thought to be nearing their capacity limits, the MODE-GAP project's key aims are to develop new components. They include very low-loss multi-mode photonic bandgap (PBG) transmission fiber; sources and detectors operating in the 1.8-2.1 µm spectral region (current technologies use 1.55 µm); new types of fibreamplifiers; and multiple-input multiple-output (MIMO) connection strategies.
Last October, the project team announced that, using multi-mode fibre, 96 channels and three spatial modes, it had set a new fiber-optic data capacity record of 57.6 Tbit/s. That is six times faster than current technologies can offer and said to be easily enough to connect the entire population of the world with simultaneous phone calls.
In November, the MODE-GAP developments also resulted in Eblana Photonics' new 1.88 µm laser diode module – although that product is initially being targeted at moisture sensing applications rather than communications.