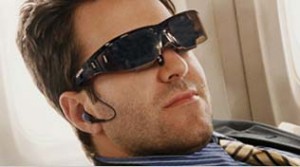 Vuzix Corporation received a patent grant and a notice of allowance from the United States Patent Office for United States Patent Application No. 13/195,539 Title: Agile Optical Phased Array Device and Applications and for US Patent Application No. 12/887,572 Title: Near-Eye Display with On-Axis Symmetry.
"These new additions to Vuzix IP portfolio make claims in connection with our advanced optics technology that include a single electro-dynamic waveguide to operate as both a thin waveguide to relay images to the eye and the optics to create the virtual image, all in a package size that would fit snuggly into standard eyeglasses" said Paul Travers, President and CEO, Vuzix Corporation. "It also will grow the number of our patents and patents pending to 47, which adds confirmation to Vuzix leadership in the developing optics technology around Augmented Reality Smart Glasses," he said.
Vuzix Corporation also owns and or licenses a variety of patents and intellectual property that applies to advanced optics and displays for the design of smart glasses with displays built into them. Vuzix IP should ultimately allow it to create a line of fashionable see-through eyeglasses, with hi resolution displays in them, for uses in the mobile smart phone markets from gaming to augmented reality. As mobile users adopt advanced augmented reality applications and people expand the use of geospatially connected information, the demand for smart glasses and smart phone accessories is expected to grow. The latest patent allowances come coincident with Vuzix BEST OF INNOVATIONS award win at the 2013 CES and the announcement of their first smart glasses, the M100.
visit .