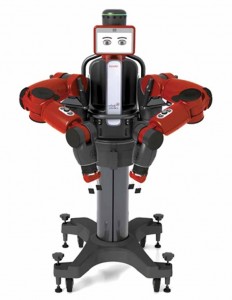 Automate 2015, opens today in Chicago, Illinois (US) at McCormick Place's North Hall running through Thursday. This year's show is over 80% larger than in 2013 and features more than 300 exhibitors supporting many industry verticals including automotive, electronics, aerospace, and food and beverage.
Automate 2015 showcases the trends and technology shaping the future of automation. According to a recent study by Boston Consulting Group, 72% of executives at U.S. based manufacturing companies with sales of at least $1 billion say they plan to invest in additional automation or advanced manufacturing technologies within the next five years.
As automation becomes more cost effective and easier to implement, small to medium-sized businesses are also adopting robotics, machine vision and motion control technologies to help drive their bottom line. Visitors can see these technologies firsthand and learn how they can be incorporated into standing business models.
Visitors will learn from industry innovators and interact with emerging technologies on the forefront of automation. Exhibitors at Automate 2015 include:
Rethink Robotics: Creators of Baxter, the company will be showcasing several exciting innovations at this year's show.
Universal Robots: Visitors have the opportunity to see the simple training processes of its collaborative robot arms and how they can be used in businesses today, such as in production dental labs.
Yaskawa Motoman: The Company will be showcasing its latest innovations and will host in its booth the ReWalk robotic exoskeleton, a device with the ability to simulate hip and knee motions, thus enabling individuals with spinal injuries to walk.
Attendees can also see the latest models from top producers of vision and motion control applications, in addition to collaborative robots helping evolve workplace automation. Collaborative robots are a major theme at Automate this year. Designed from the ground up with the user in mind, robots like these retain the ability to understand human processes and seamlessly integrate into smaller workspaces alongside human counterparts.
In keeping with this collaboration theme, on Monday, 23 March, Automate 2015 will also host the 8th IFR CEO Round Table Discussion focused on "Robots and People Working Together." Panelists represent perspectives from robot users, researchers and suppliers. Panelists include Stefan Bartscher, of BMW Group, Professor Henrik Christensen of Georgia Tech and Stuart Shepherd of KUKA US Holding, as well as executives from the companies mentioned above.
In addition to great activity on the show floor, Automate 2015 also offers attendees additional social and networking opportunities after hours. On 23 March, the Robotic Industries Association (RIA) will present the Engelberger Robotics Award to Dean Kamen and Raffaello D'Andrea. Named after the worldwide "father of robotics," Joseph F. Engelberger, the award is the robotics industry's highest honor.
Kamen will be awarded the 2015 Engelberger Award for Leadership. He founded FIRST (For Inspiration and Recognition of Science and Technology) and is a well-regarded inventor, entrepreneur, and tireless advocate for science and technology. D'Andrea, currently a professor of Dynamic Systems and Control at ETH Zurich, will be awarded the 2015 Engelberger Award for Technology. D'Andrea co-founded Kiva Systems, a robotics company that revolutionized material handling by deploying thousands of autonomous mobile robots in warehouses. The company was acquired by Amazon in 2012.
A3 is also co-producing the Automate Launch Pad Startup Competition with Silicon Valley Robotics, and sponsored by Shell GameChanger. The competition will feature eight semi-finalist companies rooted in robotics, vision and motion that impact automation in diverse industries. Troy Henikoff, managing director of TechStars Chicago, James Unterreiner, member of the Shell GameChanger team and Randy Castleman, general partner for Court Square Ventures, will select one company to win the grand prize of $10,000.