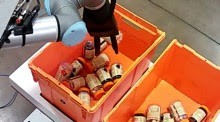 Intelligrated, a North American-based automated material handling solutions provider, announces its show lineup for Automate 2017, 3-6 April at McCormick Place in Chicago. At booth #1616 in the integrated solutions center of the north hall, Intelligrated delivers a fully automated each picking demonstration, a solution designed to help e-commerce and retail operations overcome challenges from labor availability and turnover in repetitive warehouse positions.
The demonstration uses a two-level automated storage and retrieval shuttle system and vertical lift to move inventory-laden totes from storage into position for picking. Using vision technology and specially designed end-of-arm tooling, the robotic solution identifies and handles individual items, picking and placing them from one tote to the next. It offers the flexibility and accuracy to handle high volumes of diverse orders, allowing operations to adapt to changing order profiles and manage SKU proliferation while allowing operations managers to redeploy labor to more value-added tasks.
Intelligrated is an RIA-certified robot integrator, with decades of experience designing and implementing robotic material handling solutions.
Seminar Automating warehousing and logistics operations
Intelligrated will also participate in an educational on-floor Automate seminar.
Wednesday, 5 April from 3-5 p.m. - Join Matt Wicks to learn about using robotic technologies to solve logistics challenges
Visit Intelligrated in booth #1616 to learn more about automated each picking