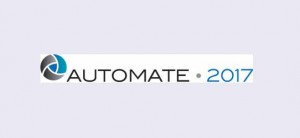 Automate is looking for robotics, machine vision and motion control startups to enter the Automate Launch Pad Competition. The competition is a chance for the industry's most innovative young companies to vie for the spotlight and a $10,000 cash award.
Eight semi-finalist companies will be invited to participate in the Automate Launch Pad competition in Chicago on Monday, 3 April, 2017. The eight companies will also receive a free 10 ft. x 10 ft. exhibit space on the Automate show floor. This exhibit space must be staffed during show hours. (Monday, 3 April, 2017 - Wednesday, 5 April, 2017 10:00am – 5:00pm and Thursday, 6 April, 2017 10:00am – 3:00pm.).
Click here to fill out the form to enter. The deadline is 17 February 2017.