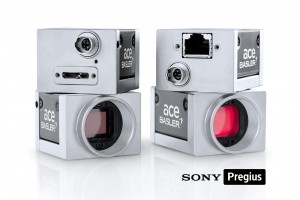 Basler is starting the series production for all models in its new Ace L product line. This expansion of the Ace series includes 12 new cameras with the high-resolution CMOS sensors of the latest generation from Sony's Pregius line.
The 12 new Ace L models offer resolutions of 9 and 12 megapixels and frame rates of up to 40 fps. Featuring the IMX253, IMX255, IMX267 and IMX304 sensors, they offer the Pregius image quality with a dynamic range of more than 70 dB and a high quantum efficiency over a broad spectrum of visible light into the NIR.
Thanks to these properties, the cameras are also suitable for demanding applications, including, for example, high-resolution AOI systems for display inspection or enforcement systems in the ITS market.
The 12 Ace L models feature a compact design size, with a footprint of 30 mm x 40 mm to accommodate the new large-format sensors and tfacilitate integration.
All new Ace L models are available with the GigE or USB 3.0 interface, and conform to GigE Vision 2.0 or the USB3 Vision standard. The GigE models excel with high-performance GigE Vision 2.0 features such as PTP. The Ace L color models also include the unique PGI Feature Set for in-camera image optimization.
The 12 Ace L models supplement Basler's product range with additional high resolutions in the C mount portfolio while using a global shutter with a pixel size of 3.45 µm. Basler's new 1-inch lenses fit these sensors. Integration of the cameras is facilitated by the Pylon Camera Software Suite from Basler.