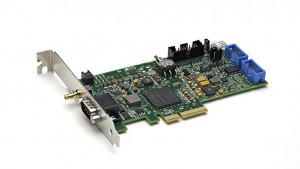 In less than ten years, CoaXPress has trounced many of machine vision's deeply entrenched standards to become one of the industry's fastest ever growing camera-to-computer interfaces. BitFlow, a pioneer in CoaXPress (CXP) frame grabbers, has helped make CXP a proven technology relied upon today by thousands of system integrators and end-users.
"While older standards such as FireWire and USB 2.0 remain serviceable for less demanding applications, they're reaching the end of the road," Donal Waide, Director of Sales for BitFlow said. "GigE Vision, Camera Link, USB3 Vision and CoaXPress have all competed to take their place but after weighing strengths and weaknesses it became clear that the market has settled on CoaXPress as the high data rate winner. CXP has the speed to meet extremely stringent requirements at lower cost per bit and with far greater flexibility than the alternatives."
The machine vision system market was valued at $10.6 billion in 2015 and is projected to surge to $18.7 billion* by 2022. "CXP will continue to expand its market share during this period, driven by industrial applications requiring higher data rates, as well as the migration from analog to digital technology in medicine, defense and security," Waide noted.
Less hardward, more speed
One of the key benefits of CXP is its simplicity, a word not often applied to machine vision systems. For example, less hardware is required since multiple cameras can be connected to a single frame grabber. Also, since the CoaXPress interface can be deployed with both low- and high-resolution cameras there is no need to mix USB and Camera Link cameras, allowing engineering focus and troubleshooting to be on placed on a single interface; not mixing and matching cameras also means a huge reduction in software integration of the system. Finally, CXP transmits data, triggers and power over a single coaxial cable, thus eliminating the need for extra power and trigger cables. Not only does this make the system simpler, it achieves added versatility because cameras are much easier to re-position over longer distances.
Says Waide: "CXP represents the easiest way to migrate to digital imaging while minimizing costs of deployment, all while gaining speeds four times faster and ranges 10 times longer than competing solutions."
BitFlow is continuing to expand on its successful CXP line. At the high end of BitFlow's offerings is the Cyton-CXP, offered either as a dual or quad CXP-6 link frame grabber, that can capture from the fastest CoaXPress cameras made today and with a DMA even faster at up to 4.0 GB/S. BitFlow's newest CoaXPress frame grabber is the affordable yet powerful Aon-CXP. It is optimized to leverage the newest generation of smaller, cooler operating CXP single-link cameras popular in machine vision and the Industrial Internet of things.