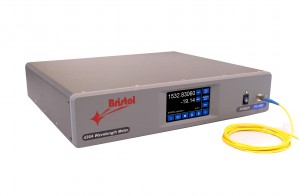 Bristol Instruments, a specialist in optical wavelength measurement instrumentation, has introduced its 438 series multi-wavelength meter.
This product measures the wavelength, power and OSNR of as many as 1000 discrete optical signals. With key features such as high accuracy, fast measurement rate, straightforward operation and rugged design, the model 438 provides WDM wavelength testing for demanding applications, according to the manufacturer.
The 438 Multi-Wavelength Meter combines Michelson interferometer-based technology with Fourier transform analysis. Wavelength is measured to an accuracy of ± 0.3 pm, power is measured to an accuracy of ± 0.5 dB and OSNR is automatically calculated to greater than 40 dB. A measurement rate of 10 Hz enables a reduction in wavelength testing times resulting in greater manufacturing productivity. What's more, a broad operational wavelength range of 1000 to 1680 nm covers all optical communications bands.