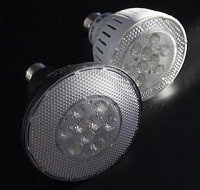 Cambridge, Massachusetts (US) startup ByteLight has developed technology that turns light-emitting diode (LED) lights into geographical positioning system (GPS)-like indoor-positioning systems. ByteLight is based on proprietary software that can accurately map the inside of a building using only its LED lighting to transmit location information.
ByteLight's firmware can be licensed to LED manufacturers, who embed the ByteLight technology directly into the LED lamp as it is being manufactured. In fact, ByteLight recently licensed LED manufacturer, Stamford, Connecticut (US)-based Solais Lighting, to produce ByteLight-enabled LED lighting for commercial and enterprise buildings.
Each ByteLight-enabled LED light broadcasts a proprietary signal that a smart device camera can detect. ByteLight's platform delivers location information to update visitors with real-time maps and related location-based information without an active network connection. ByteLight administration features even allow building staff to analyze visitor traffic patterns and measure engagement.
With the trend toward LED lighting replacing fluorescent lights in many buildings worldwide and the continued growth of mobile smart devices, LED lights that broadcast location data could revolutionize how we interact within trade shows, office buildings, airports and shopping malls.
For now, the best way to experience ByteLight "in the wild" is to visit the Museum of Science in Boston, Massachusetts, where ByteLight has been installed in the Cahners ComputerPlace exhibit. With specially equipped iPads loaded with a custom app, visitors can explore the exhibit as the device camera interacts with the "smart" LEDs to display specialized content.