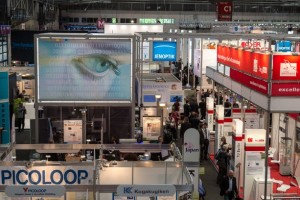 The Laser World of Photonics Congress and Trade Fair 2015 that will be held in Munich, Germany, from 21 to 25 June, with nearly 1,200 exhibitors and 27,000 visitors expected, is one of the largest of the world of its kind. Since this is one of the major events in the global International Year of Light and Light-based Technologies 2015 (IYL 2015) calendar, it features a number of activities that celebrate the effects that light-based technologies have on the quality of life and as a key force that drives the economy.
On Sunday 21 June, the European Conferences on Biomedical Optics (ECBO) will include a special Hot Topics session entitled Light for Life, from 15:00 to 16:30, which will feature internationally renowned experts discussing the current status of their fields, emerging developments, and how these technologies are poised to improve the human condition. Following this event, from 17:15 to 18:45, the ECBO-CLEO/Europe 2015 International Year of Light Special Plenary Session on Super-Resolved Fluorescence Microscopy will welcome the 2014 Nobel Prize in Chemistry Laureates Stefan Hell and Eric Betzig.
One of the highlights of the World of Photonics Congress is the Opening Ceremony that will be held on Monday 22 June from 9:00 to 11:00. The event entitled "Light Solutions for the Society Challenges of our World" will focus on how light and light-based technologies are of uttermost importance for the development of society. The session will be moderated by the IYL 2015 Steering Committee Chair John Dudley and will include addresses from high-level speakers such as Dr. Flavia Schlegel, Assistant Director-General for Natural Sciences, UNESCO; Mr. Wolfgang Boch – Head of the Photonics Unit of the European Commission; Dr. Lawrence S. Goldberg, Senior Engineering Advisor in the Division of Electrical, Communications and Cyber Systems, Directorate for Engineering, at the National Science Foundation; and Dr. Yanne K. Chembo, ERC Starting Grant Laureate, Centre National de la Recherche Scientifique (CNRS) Paris and the African Physical Society.
Present will be science advisors and attachés from selected member states of UNESCO, Nobel Prize Laureates and scientific dignitaries, conference attendees, CEOs from exhibiting companies at the Laser World of Photonics Trade Fair, Presidents and CEOs of relevant associations and CEOs and Presidents of IYL 2015 Founding Partners / Patron Sponsors.
The Opening Ceremony will be closed by the World of Photonics Congress Plenary Talk given by Prof. Federico Capasso, University of Harvard.
On Monday 21 afternoon, all exhibitors and attendees of the World of Photonics Congress are cordially invited to attend to the opening reception dedicated to the IYL 2015 from 18:00 to 21:00.
In addition, the EC-funded LIGHT2015 project that is aimed to promote the importance of photonics during the IYL 2015 in Europe will also organize several events at the World of Photonics Congress. Most notably, the presentation of the LIGHT2015 Awards to Young Women in Photonics and Young Entrepreneur in Photonics during the CLEO Europe-EQEC 2015 Plenary Session and Awards Ceremony on Tuesday 23 June. The remaining LIGHT2015 events will be dedicated to the promotion of careers in photonics on Wednesday 24 June. A Student Networking Lunch event and a Panel Discussion on Careers Choices that will be comprised by a talk from John Dudley, IYL 2015 Steering Committee Chair, followed by a panel with professionals from a variety of fields in optics and photonics. Both events are co-sponsored by SPIE. For a complete list if IYOL activities go the the Laser Munich IYOL page.