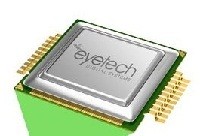 EyeTech Digital Systems, makers of eye-tracking hardware and software for a natural user interface to consumer electronics, offers "Eye Tracking on a Chip" at the 2013 International CES Conference this week at the Las Vegas Convention Centre (South Hall, booth 35159) in Las Vegas, Nevada (US). Eye Tracking on a Chip leverages a new field-programmable gate array (FPGA) camera design that puts all the processing on-chip, enabling manufacturers to integrate eye control into nearly any device including Windows 8, Android, iOS and Linux devices, from mobile devices to televisions and home or commercial electronics. Eye Tracking on a Chip will be available for developers this summer.
EyeTech's "Eye Tracking on a Chip" benefits include:
• New third generation dark pupil image-processing algorithms for a high level of reliability and accuracy
• Large head motion box enables a comfortable range of user positions
• Small form factor allows for easy integration in a wide range of products
• Low-cost licensing options are available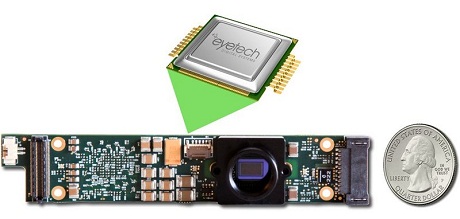 EyeTech's Eye Tracking on a Chip
Also on display at the booth are commercially available products that consumers can buy today for their existing PC or TV: PC peripheral add-on, EyeOn mini; TV tracker add-on, VT2 XL; and for developers, ET OEM.