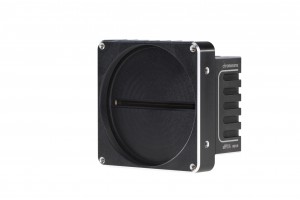 Chromasens, a specialist in 2D and 3D color machine vision imaging, has introduced its new allPIXA wave 15K, which the maker says is the world's first trilinear true color RGB line scan camera with more than 15000 pixels.
Delivering CCD-level imaging with CMOS efficiencies, the allPIXA wave 15K (part #CP000498-15k) maximizes machine vision systems used in the inspection of flat panel displays, narrow and wide web, textiles, and PCB boards, among other line scan applications that benefit from its speed, sensitivity and resolution.
Chromasens allPIXA 15k wave cameras offer the added system flexibility of increased scan line lengths up to 15k x 4 lines, along with line frequencies topping out at a maximum speed of 150 kHz at 850 megapixels per second throughput. Internal keystone correction allows for multiple angle positioning of the camera, while a simplified graphical user interface and an integrated test image generator enables easier setup and diagnostic functions. A smaller footprint gives system integrators more choice to resolve a multitude of industrial imaging challenges in tight spaces. Adding to the cameras' system flexibility is the universal Camera Link interface.
Color imaging
The allPIXA wave features multiple color conversion matrix, continuous white balancing and a signal-to-noise ratio that empower the cameras to yield ultra-high color resolution up to 15360 pixels x 4 lines, with 5.6 μm x 5.6 μm pixel size, according to the manufacturer. Since the camera offers "true" color, there is virtually no spatial distance between each of the sensor's three native color (RGB) lines.