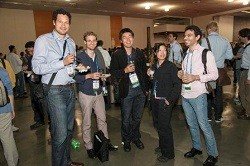 The organisers of Conference on Lasers and Electro-Optics (CLEO) 2014, which is taking place 8-13 June at the San Jose Convention Center in San Jose, California (US), announced that they are seeing a boost in numbers heading into the event next week. The long-running laser conference and exposition is expecting the highest number of attendees in five years. Paper submissions this year are also up to their highest level ever at more than 2600.
Organisers also announced CLEO will expand its paper submission acceptance criteria next year to include specific engineering topics as a way to increase its program offerings to the industrial segment of the optics and photonics community. The new criteria are part of one of three conference tracks known as CLEO: Applications & Technology, which features presentations on applied optics and photonics developments and how these technologies can be used in market applications.
Under the same high-quality review process as the rest of the CLEO conference papers, submissions that include commercial engineering topics and work that displays engineering progress of maturing and implemented photonics technologies can be accepted beginning in August of this year for next year's conference.
Specifically, the CLEO 2015 submission acceptance criteria will be expanded to include:
1. Commercial engineering papers in topic areas such as:
a. Biomedical applications
b. Industrial applications
c. Photonics instrumentation and techniques for metrology and industrial processes
d. Lasers and photonics applications for energy and the environment
2. Work that displays engineering progress of maturing and implemented photonics technologies represented through:
a. New photonics-based products
b. Field demonstrations of optical technology
c. Engineering of optical technologies
The call for papers for CLEO 2015 opens in August 2014.