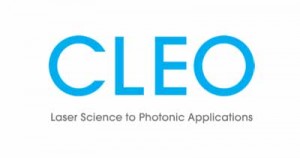 CLEO continues to be the world's premier international forum for scientific and technical optics, uniting the fields of lasers and optoelectronics by bringing together all aspects of laser technology, from basic research to industry applications. The CLEO technical conference takes place from May 13 to 18th and the exhibition from May 15 to 17 in San Jose, California (US).
CLEO provides a forum where attendees can explore new scientific ideas, engineering concepts, and emerging applications in fields such as biophotonics, optical communications and novel light sources. The CLEO Technical Program Committee maintains a rigorous peer review system that emphasizes and maintains high technical quality in all presentations.
While the quality of work presented remains assured by CLEO's world-renowned technical program, the conference continues to evolve with new features to enhance your experience. CLEO offers high quality content in four core event elements:
Fundamental science
The premier venue for discussion of basic research in optical and laser physics and related fields. Topics include modern spectroscopy, ultrafast and nonlinear lightmatter interactions, quantum optics, low-dimensional, optical materials, quantum information science, nanophotonics, plasmonics and metamaterials.
Science & innovations
World-leading scientific research and innovation in lasers, optical materials, and photonic devices. Topics include laser processing of materials, terahertz sience and technologies, ultrafast optics, biophotonics, nanophotonics, fiber photonics, nonlinear optical and laser technologies, metrology, sensing and energy-efficient "green" photonics.
Applications & technology
Exploration of the transition of fundamental research into emerging applications and products. The scope spans innovative laser and EO components and systems and applications. These topics include biomedical devices for diagnostics and therapeutics, high-power laser systems for industry and defense, photonics instrumentation and technologies for metrology, industrial processes, environmental sensing and energy conservation.
CLEO:EXPO
This exhibition showcases companies featuring a wide range of photonics innovations, products and services. Attendees include researchers, engineers and leaders from top research institutions and major businesses who represent the fastest growing markets in optics and photonics.