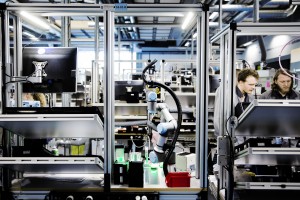 Collaborative robots work side by side with humans, often working on the same task as if they were co-workers. The first such robot was sold by Universal Robots in 2008, before the term was coined. Last year the collaborative robot (or "cobot") market was seeing 50% growth annually, with industrial robotics forecast to hit $3 billion in global revenue in 2020. The Rapid Rise of the Collaborative Robot details the history of cobots, dating back to 1920.
Safety considerations and standards
Because collaborative robots work in tandem with humans, and not off in a caged area like other industrial non-collaborative robots, safety is a major concern because robots can malfunction and cause accidents or even death. One such incident occurred when a robot's arm malfunctioned at a Michigan assembly plant in 2015, causing the death of a worker. Fortunately, deaths from robots are rare. Throughout the history of the use of industrial robots most accidents do not occur during normal use of the robots, but when robots are being programmed, fixed or tested, according to OSHA. And the number of fatalities involving industrial robots is far less than the total number of fatalities in the workplace.
Nevertheless, safety is of paramount importance. In order to ensure the safety of humans working side by side with robots, the International Organization for Standardization developed ISO/TS 15066:2016, which specifies safety requirements for collaborative industrial robot systems and the work environment. ISO/TS 15066 provides guidelines for the design and implementation of a collaborative workspace that reduces risks to people. It specifies:
Important characteristics of safety control systems
Factors to be considered in the design of collaborative robot systems
Built-in safety-related systems and their effective use
Guidance on implementing the following collaborative techniques: safety-rated monitored stop; hand guiding; speed and separation monitoring; power and force limiting.
The standard establishes specific safety guidance for manufacturers and users of collaborative robots, ensuring continued advancement and use of this new technology.
In the workplace
Magna-Power, makes programmable power products to order, and to try to minimize production time, it is using the MiR100, collaborative robot from Mobile Industrial Robots.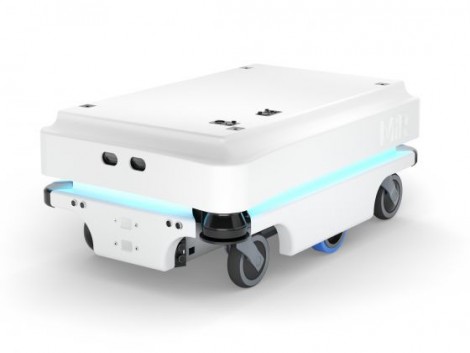 The robots automate the transportation of material so that human workers can focus on other tasks. The robots move to programmed checkpoints, where workers can pause the robot to unload kits from the stockroom, then reload finished assemblies to be sent to inventory. When the robot goes back to the stockroom, it plugs itself in for recharging while it's simultaneously being reloaded. The robots are not taking work away from employees, but rather they are freeing the employees from spending hours moving materials from one part of the plant to another. They're making that task more efficient in many ways, including removing "human error" from the equation. In the past, employees might miss a part when they were loading up material for a particular job. The company has found the robots easy to use and expect them to pay for themselves within a year.
Yanfeng Automotive Interiors (YFAI) is another company that's using automation to increase its production output and accuracy. At YFAI, two Sawyer robots (above, right) from Rethink Robotics are being used on packaging tasks. One robot packs parts from a conveyor onto a rack and is capable of handling 180 parts every 54 minutes. The second robot counts out exactly 80 parts from a conveyor and places them into a tote. Not only have output and accuracy increased, but the two robots have freed up employees to be used in positions where they can add more value.
Future considerations
Job training is just as important for robots as it is for people, which is why collaborative robot manufacturers emphasize the importance of the software that programs the robot to perform tasks.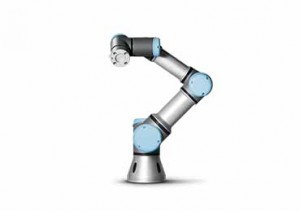 At the Vision Show in Boston, I had the opportunity to program a collaborative robot in the Universal Robotics booth by simply holding the teach pendant, which is like a tablet computer, and moving the robot to desired waypoints. It's clear that a strong trend in the industry is to develop robots that can be used with very little training..
The Robotics Industries Association reported that in 2016, the North American robotics market broke all time records for orders and shipments. Bob Doyle, Director of Communications at the Association for Advancing Automation, noted that much of the growth in robots for assembly applications has been in collaborative robots. As collaborative robots become easier to use, more capable and with safety protocols in place, they're becoming commonplace in many industries, especially those in which they can perform repetitive tasks working autonomously or side by side with humans.
Written by Anne Fischer, Managing Editor, Novus Light Technologies Today