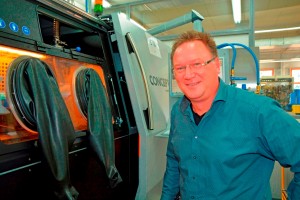 Concept Laser's M2 cusing is used to create metal implants for patients with severe craniomaxillofacial traumas or deformities. Patients suffering these injuries can have functional disorders, affecting their ability to eat, taste, swallow or speak properly, as well as psychosocial difficulties. Craniomaxillofacial surgery is a procedure for correcting such injuries and deformities through distraction and osteosynthesis.
Karl Leibinger Medizintechnik, uses the LaserCUSING process from Concept Laser on an M2 cusing machine to specifically design the implant according to the patient's requirements. To manufacture patient-specific implants, Frank Reinauer, Head of Innovation and Production of Biomaterials at the company, consistently relies on additively manufactured implants.
Distraction osteogenesis and titanium osteosynthesis
Distraction osteogenesis involves the extension of bones. Sometimes a bone "forgets" to grow. The distraction "reminds" the bone to grow again. It is encouraged to fulfill the genetically prescribed "blueprint." In the pediatric treatment of craniosynostosis, an operation is performed to open and distract the ossifying skull, so the brain is given the space it needs to grow. The second key concept is: titanium osteosynthesis. This involves giving the bone new stability. Developing such solutions which are visionary and ambitious, requires many years of experience.
Titanium as the benchmark: implants made to measure
Very quickly, it became apparent that laser melting was the method of choice for titanium osteosynthesis. The technique allows the production of large-scale reconstructions with complex geometries. For the surgeon, it is not just about restoring functionality, but also about the aesthetic appeal. The parts have high strength, and the material is biocompatible. Even those with allergies can accept titanium extremely well. Frank Reinauer says: "From numerous aspects we view titanium as providing the benchmark for implant technology." Additive manufacturing with metal also offers the opportunity to manufacture specific partial surface roughness of the implant so that it can fuse with the bone very quickly at the edges of the implant. "But there is another very important aspect in favor of additively manufactured titanium implants" says Frank Reinauer, "the patient-specific geometry and precision fit. Ultimately this means a high level of functionality." The surgeon can use imaging techniques such as CT (computed tomography) or MRI (magnetic resonance imaging) to cater for the specific anatomy of an individual patient. The engineers from Karl Leibinger Medizintechnik process this data to create an STL file which serves as the initial data for 3D construction and manufacturing on a M2 cusing.
Manufacture of laser-melted individual implants
With demands growing, the parts are built up on the M2 cusing very promptly, and even large-scale parts can be accommodated in a build envelope of 250 x 250 x 280 mm³ (x, y, z). The M2 cusing is designed in line with ATEX guidelines and thus makes it possible to process reactive materials like titanium or titanium alloys safely. Frank Reinauer: "When it comes to processing reactive materials, Concept Laser has undoubtedly set the benchmark for safety and with a contamination-free concept for manufacturing additive parts." Like all machine solutions from Concept Laser, it also features physical separation of the process chamber and handling area.
About Concept Laser and ES Technology
Concept Laser is one of the world's leading providers of technology to support the 3D printing of metal components. The patented LaserCUSING® process – powder-bed-based laser melting of metals – frees designers and engineers from the constraints of more traditional manufacturing methods, allowing tool-free manufacturing of highly complex parts. The company's customers come from many different sectors, including the aerospace, medical, dental, automotive and jewellery industries. ES technology is an authorized partner for sales and service of the Concept Laser systems in UK and Ireland.