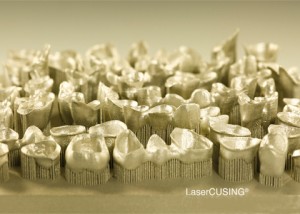 Since 2011, the dental industry has adopted the compact Mlab machine from Concept Laser for the additive manufacturing of patient-specific implants, bridges and crowns. Now Concept Laser has introduced the Mlab cusing 200R, designed for dental laboratories and technicians.
According to its maker, the new Mlab cusing 200R features space-saving ergonomics and an intuitively designed display. It is designed to deliver high surface quality and fine part structures. The manufacturer doubled the average power of the fibre laser to 200 watts, for a higher build rate. Another new feature is a clamping system for more accurate component positioning.
In practice
In addition, the Mlab cusing 200R has a larger filter, aiming to reduce downtimes. Other features include the water-floodable filter and the modular structure of the machine. The process chamber and handling section are physically separate for better part handling. For this purpose, a handling station for loading and unloading the machine is docked on so that the build module can be transferred using a drawer principle. The handling station is then made inert. The operator accesses the station through gloves in order to carry out the loading process or to remove parts. After the end of the process, the build module is "pulled" back into the machine and finally the handling station is undocked. Due to the Mlab cusing 200R's concept of the closed system, all process steps take place under inert gas, shielded from external influences. The machine has been designed in accordance with ATEX directives for safe processing of reactive materials, such as titanium and titanium alloys. For the Mlab cusing 200R, Concept Laser now also offers the option of the new, inert sieving station QM Powder S as a stand-alone unit. The user can apply a variable number of sieves (1–3 units), with a three-dimensional sieving motion.