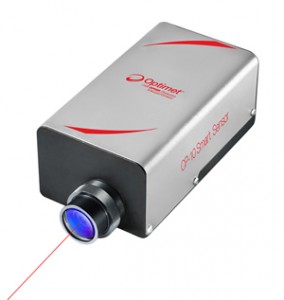 MKS Instruments, a global provider of technologies that enable advanced processes and improve productivity, announces the Optimet ConoPoint-10 Smart Sensor from its Ophir business unit. The ConoPoint-10 is a non-contact laser displacement sensor with built-in profile analysis library for fast and accurate product inspection and 2D profile measurements of complex parts.
The ConoPoint-10 Smart Sensor's built-in profile analysis library allows the sensor to go beyond simple reporting of displacement values to measuring, analyzing, and evaluating product features and delivering pass/fail results on the production line. Based on MKS' Conoscopic Holography technology, the sensor provides wide-angle coverage of up to ±85 degrees for measuring complex geometries, undercuts and steep angles.
Web-based software makes the ConoPoint-10 Smart Sensor quick to set up. A built-in profile analysis library measures distance, height, angle and radius. Filters are included for smooth point arrays. External triggers and a digital input and output are included for control of the data acquisition process and to deliver go/no-go results. A configurable encoder input and pulse allow the sensor to include position information with every measurement. The ConoPoint-10 Smart Sensor's fast 10kHz speed provides true data so each measurement can be used.
MKS will launch the ConoPoint-10 Smart Sensor during Control 2017, the international trade fair for quality assurance in Stuttgart, Germany, 9–12 May 2017, hall 4 booth 4207. Reuven Silverman, General Manager, Optimet products, will present the Smart Sensor at the Exhibitor Forum on Thursday, 11 May 11am.