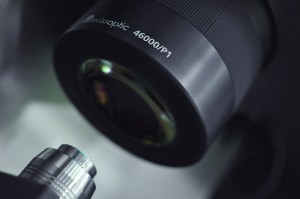 Control 2017 will take place from May 9th to 12th in Stuttgart, Germany. SwissOptic will be located in Hall 4, at stand number 4224 and will present its optical components, assemblies and systems used in measurement, testing and control technologies. This will include interferometer lenses, high precise aspheres as well as high accuracy measurement reflectors used in various applications.
SwissOptic AG is a long-time partner for its customers, from concept to volume production, and provides a full portfolio of OEM engineering and manufacturing support for companies building systems used in coordinate measuring technology, measurement, testing and control technologies. Located in the "Optical Valley" in Switzerland, the company develops and manufactures OEM optical system solutions.
The entire production chain is located in-house, from optical design, to product and process development, to production and coating all the way to quality assurance. This ensures flexibility and great speed when responding to individual customer requests.
Visitors to Control 2017 can expect a comprehensive service portfolio tailored to the key topic of "quality assurance" at the SwissOptic booth.