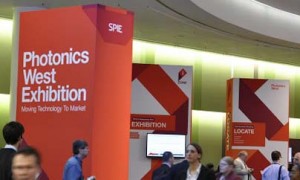 San Francisco is in the spotlight this week. On Superbowl Sunday, crowds will gather to watch the hometown team take on the Baltimore Ravens in the annual American football matchup. But huge crowds will also descend upon the city for SPIE Photonics West 2013, the largest gathering of those in all of the light technologies industries including optics, automation, lasers, vision, displays, lighting and bio applications.
The conference and exhibit is expected to draw more than 20,000 attendees to the Moscone Center from 2 to 7 February. Some 4400 papers will be presented; 18 plenary presentations; 40 technical events; 70 courses; 1300 exhibitors and more. Novus Light Technologies Today features live news from the trade show floor from companies such as Photon Control, Spectra-Physics, Newport, Vytran, Energetiq, and more.
Encompassing all of the light technologies, Photonics West has four smaller conferences within the larger exhibition: LASE, MOEMS-MEMs, OPTO and Green Photonics.
LASE focuses on high-power laser manufacturing, quantum lasers, VECSEL, VICSEL, and materials processing research. LASE 2013 Symposium Chairs include Bo Gu of Bos Photonics (US) and Andreas Tünnermann of Fraunhofer IOF (Germany) and Friedrich-Schiller University--Jena (Germany). Conferences will be held on fibre, disk and ultrafast lasers along with semiconductor laser/LED highlights. Some of the topics presented include laser source engineering, nonlinear optics, semiconductor lasers and LEDs, laser micro/nano-engineering and laser applications.
MOEMS-MEMS is where you will find the latest on microfluidics, MEMs, MOEMs, micro-optics and adaptive optics research. The symposium Chair is Harald Schenk of the Fraunhofer Institute for Photonic Microsystems (Germany). Symposium Co-Chair is David L. Dickensheets of Montana State University (US). Topics presented will include the micro-and nano-fabrication that will enable the mass-production of miniaturized products and systems.
OPTO features the latest on silicon photonics, photonic crystals, optoelectronics, semiconductor lasers, quantum dots, nanophotonics research and more. David L. Andrews is Symposium Chair of OPTO and he is from the University of East Anglia Norwich (UK).
Green Photonics is where light technologies are used in research to help us understand environmental challenges we face as well as in applications that contribute to a reduction in greenhouse gasses and other pollutants. The Green Photonics Symposium Chair is Stephen J. Eglash, Precourt Institute for Energy at Stanford University, California (US). The Green Photonics Awards will be announced in the OPTO plenary session on Tuesday at 8 a.m. Novus Light Technologies Today is looking forward to being there and to bringing you full coverage, including new product announcements, live blogs, updates on the green photonics awards.
Written by Anne Fischer, Managing Editor, Novus Light Technologies Today. Follow me on Twitter @greenphotonics.