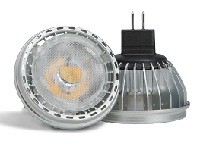 Using up to 80% less energy and designed to last up to eight times longer than traditional 50-watt (W) halogen MR16 lamps, the Cree LM16 LED Lamp delivers a new standard in light-emitting diode (LED) lighting. It can deliver payback in less than 12 months and provide years of consistent color quality and lumen output.
The Cree LM16 LED Lamp can replace up to 50W halogen lamps and uses only 9W of input power. With typical commercial usage of 16 hours per day and the US average $0.12 (USD) per kilowatt-hour (kWh) electric costs, lighting-related heating, ventilating and air conditioning (HVAC) impact and relamp maintenance reductions, many upgrade installations can pay for themselves in less than one year. The high-performance LM16 LED Lamp delivers center beam candlepower for 25° beam angles, making it suitable for a wide spectrum of applications in retail, hospitality and residential settings.
The LM16 LED Lamp matches the performance, appearance and ANSI form factor of the traditional halogen lamp but it also works with a broad range of transformers and dimmers to seamlessly replace it in existing systems. Embedded protective dimming circuitry and intelligent thermal software in combination with the innovative Cree fan-less housing design can help deliver a long lifetime of quality and performance.
The Cree LM16 50W halogen equivalent delivers 620 lumens (consuming only 9W) and the 35W halogen equivalent delivers 425 lumens (consuming only 7W). The new lamps are designed to provide a minimum of 25,000 operating hours, reducing the need to replace lamps. The 50W equivalent is dimmable to 5% on a broad range of dimmers and transformers. The new Cree LM16 LED Lamp is available in three beam angles, including 17° spot, 25° flood and 40° wide flood.