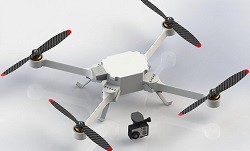 LaserMotive, an independent company specialising in delivering electric power via lasers, unveiled InvisiTower, a tethered vertical take-off and landing (VTOL) aircraft system powered by laser over optical fibre. This portable system can power any multi-rotor helicopter indefinitely using laser power sent via fibre-optic cable, enabling the aircraft to stay in the air as long as power is available on the ground. The first public flight of an aircraft powered by LaserMotive's InvisiTower will take place this week at the Defense, Security + Sensing 2013 trade show at the Baltimore Convention Centre (booths T2 and 1970) in Baltimore, Maryland (US).
InvisiTower enables any helicopter to stay in the air as long as power is available on the ground. The system is compact and portable (small enough to fit in the back of a sports utility vehicle, SUV) and does not require a pilot to fly. It just needs someone to monitor the video coming from it. At the conference, LaserMotive will demonstrate InvisiTower powering a small quadrocopter (see photo), which will fly each day of the trade show.
The aircraft system can be used for a variety of applications in both the military and civilian markets including: Information Systems Research (ISR) and situational awareness, communications relay, news and sports reporters, first responders and industrial facility security.
InvisiTower is based on LaserMotive's Power over Fibre (PoF) system announced earlier this year, which takes LaserMotive's free-space laser power beaming systems that deliver power to mobile robots and unmanned aerial vehicles (UAVs) and sends the laser light over optical fibre. PoF can deliver power over long distances safely without interference in the presence of high voltages, radio frequency (RF) fields and electromagnetic pulses (strong magnetic fields).