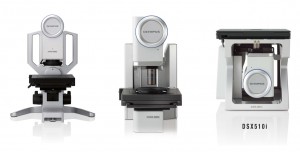 Olympus supplies technology to inspection, test, and quality control facilities with its DSX Series of digital micro-imaging and metrology solutions. The DSX Series combines Olympus technology with the ease of a touchscreen.
The DSX series
Requires little training
Produces reliable, reproducible and traceable measurements
Features Best Image function
Accommodates samples of all shapes and sizes to produce 2D, 3D and panorama results
Improves image clarity using advanced high-definition digital techniques, including High Dynamic Range, Color Enhancement and the WiDER image processing system, which resolves high-contrast problems in real time while eliminating blackouts and glare for easy inspection of samples with high reflectance difference.
The DSX Series includes Olympus' DSX110, DSX510, and DSX510i digital microscopes.
Olympus DSX110
The DSX110 is a free-angle, motorized wide-zoom microscope with 16x zoom optics. Employing four-segment LED ring lighting, this scope helps to ensure a high level of inspection performance.
Olympus DSX510
The DSX510 is a high-resolution, motorized upright microscope with 13x zoom optics.
Olympus DSX510i
The DSX510i is a high-resolution, motorized inverted scope with 13x zoom optics.
DSX-series instruments are compatible with Olympus Stream industrial image-analysis software for measurement, processing and reporting. DSX systems are built to resist ambient vibration with proprietary image stabilization technology for repeatable measurements and images in any environment.