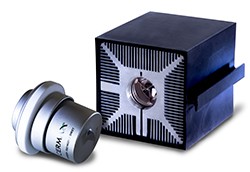 Excelitas Technologies Corp., a global technology specialist delivering innovative, customized photonic solutions, will showcase its latest medical illumination and curing systems at BIOMEDevice in Boston, Massachusetts (US).
Products on display at Excelitas' Booth 841 include:
Cermax MX300 All-Metal Xenon Light Source: The MX300 Metal-Body Xenon Light Source is the latest innovation from the medical Xenon leader. The new product features 20% more light output than alternative Xenon sources, better uniformity, repeatable alignment and lower system operating temperature.
XLMii LED Fiber Optic Light Source: Offering medical device OEMs simplified integration of LED illumination for endoscopy, surgical microscopy and surgical headlamps, the XLMii LED Fiber Optic Light Source features configurable components that can be quickly adapted to customer requirements, including optional integrated NIR laser or LED source. Product design time can be significantly reduced, allowing for shorter time-to-market.
X-Cite Vitae Illumination Solutions for OEM Applications: X-Cite delivers illumination solutions with flexible design and best-in-class manufacturing quality to meet the most demanding OEM applications. X-Cite Vitae LED Platforms offer easily integrated, customizable illumination for medical and diagnostic instrumentation.
OmniCure LX500 UV LED Spot Curing System: Featuring up to four LED heads with up to 16W/cm2 peak irradiance and proprietary feedback technology, OmniCure LX500 provides the highest irradiance available with unmatched optical stability for consistent and repeatable assembly of medical devices with lower costs. It is designed for use in medical devices such as catheters, cannulas, endoscopes and syringes, and electronics applications.
µPAX-2 Pulsed Xenon Light Source: Combining an innovative lamp design with state-of-the-art circuitry and components, the 2-Watt µPAX-2 pulsed Xenon light source provides microsecond-duration pulses of broadband light with exceptional arc stability. Applications for µPAX-2 include UV/Vis spectrophotometry, point-of-care analytics, environmental and absorption analysis, fluorescence triggering, immunoassays and microplate readers.
BIOMed Device takes place April 18 – 19, 2018 at the Boston Convention & Exhibition Center, Boston, MA. Booth 841.