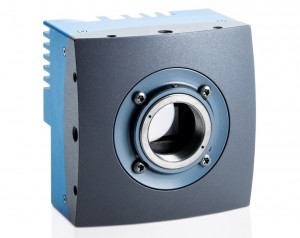 Although optical fibers offer several advantages, they still have not made their way into the machine vision sector where copper-based interfaces continue to dominate. A new camera with fiber interface from Mikrotron is set to change this.
Benefits of fiber
Optical fiber cables transmit high-speed data rates over long distances, a key benefit that has long been recognized by the telecommunication and IT industries where fiber technology has been deployed for decades. Fiber cabling supports well beyond the industry standard of 10 Gbps, making it possible to carry more information at a faster rate of speed than copper, although the end rate of the data transfer and bandwidth does depend on the type of cable installed, i.e., single-strand fiber optic cables usually support a greater bandwidth. Furthermore, fiber cables are insensitive against interferences (EMC). Copper cables are notorious for experiencing interference because they are receptive to electrical currents. In contrast, fiber optic cable has a glass center that doesn't conduct electricity therefore providing immunity to radio frequency interference, crosstalk, and additional electrometric-related interferences.
The fiber optic signal consists of light, meaning that data can transfer and travel at a much higher rate of speed without compromise; in fact, the distance supported by fiber can reach 25 miles in some instances. While it is rare that a vision application requires that distance, fiber expands the horizons of system integrators who have long restrained by cable lengths of only a few feet. It is not unusual that a long distance has to be covered between a camera installed on the production site back to a PC that may be located in a remote office.
Not only do fiber optic cables offer a more stable data transmission over long distances, they are thinner to give the system designer more space to work with, as well as more flexible and less expensive than the copper-based solutions currently used in machine vision systems. Factoring in lower long-term maintenance, along with the elimination of costly copper signal repeaters, and that existing hardware can be used in many cases without adjustments or additional expense, migrating a vision system from copper to fiber makes sense at every level.
Decisive factors of a machine vision system
Therefore, looking closely at the decisive factors of a machine vision system — costs, data rate, handling and cable length — fiber cables perform significantly better than conventional copper cables. So, with all these advantages why is fiber not used in machine vision?
One reason is that fiber is still thought of as "too fragile" for an industrial environment. Once upon a time, this was true but today's more rugged fiber is manufactured to withstand the same demanding conditions as copper cabling: shock, vibration, bending and pinching is all possible without breakage. Another concern is installation time. Modern fiber cables install in minutes with field-modifiable designs that allow for slipping through conduit, fast cutting and splicing, and verifying with standard test equipment.
However, the primarily reason that fiber has not been used in machine vision is because the required interface was not compact enough to be integrated into a camera housing. That changed with a new generation of fiber components that now can easily be integrated into the housing even of an extremely small camera. By finally overcoming this obstacle, fiber-based machine vision solutions are now realities with the capability to transmit data over distances of up to 300 meters without deploying a repeater.
Mikrotron EoSens 3FIBER
Mikrotron used these compact new components to design its first fiber camera, the Mikrotron EoSens 3FIBER. Measuring only 80 x 80 x 53 mm, the camera will integrate easily into existing production lines, machinery or moving equipment. Robust MTP/MPO fiber connectors ensure that it does not disconnect even during fast and sudden movements.
Designed for reliability and ultra-high performance, the Mikrotron EoSens camera delivers 3-megapixel resolution at 566 fps or 1200 fps at 1280 x 1024 pixels resolution. Best yet, it combines this high performance with fiber optic speed — up to 225000 fps at reduced resolution. While the CameraLink interface reaches transfer rates up to 850 Megabyte/second and CoaXPress to about 2.3 Gigabyte/second, Mikrotron's new fiber solution offers the potential of up to 40 Gigabit/second that is equivalent to 5 Gigabyte/second.
Furthermore, there is the advantage of cable length. CoaXPress provides a maximum possible cable length at this data rate is about 15 meters, while the EoSens 3FIBER fiber solution allows up to 300 meters using thinner, more flexible and cost-efficient cables. Fiber cables have a diameter of less than four millimeters and are equipped with standardized MTP/MPO cable connectors that clinch safely and securely. The EoSens 3FIBER FPGA sends the data to the transceiver module that transmits it optically to the fiber frame grabber for processing. Data transmission takes place over four fiber channels which are either bundled in a QSFP+ module in one connector or four individual SFP+ modules that can be plugged into the frame grabber.
Bottom line
The combination of a standardized interface protocol with a flexible and proven high-performance fiber interface in the EoSens 3FIBER camera offers several breakthroughs to vision applications such as electronics inspection, military, science and research, and industrial automation. Besides simplifying handling and installation, vision systems utilizing EoSens® 3FIBER fiber cameras are ideal where electromagnetic disturbances are expected. At the same time, system costs are reduced because fiber cables are less expensive than copper cables plus eliminate the need for external repeaters. Lastly, higher data rates can be reached at much longer transmission distances for maximum productivity.