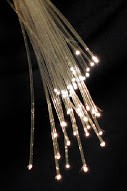 Finisar Corporation and u2t Photonics AG announced today that they have entered into an agreement under which Finisar will acquire 100% of the equity interests in u2t Photonics AG.
Finisar Finisar Corporation is a global technology leader for fiber optic subsystems and components that enable high-speed voice, video and data communications for telecommunications, networking, storage, wireless, and cable TV applications.
u2t Photonics AG, founded in 1998 and headquartered in Berlin (Germany), is a supplier of ultra-high speed optical components up to 100 GHz. u2t develops, manufactures and markets highly competitive products for high speed communication applications and detectors with superior performance for test and measurement equipment vendors.
u2T will be acquired for approximately $20 million in cash, subject to certain adjustments. Finisar will also assume net debt of approximately $7 million. The transaction is expected to close during the month of January.
With this transaction, Finisar will add u2t's Indium-Phosphide (InP)-based 100G high speed receivers and photodetectors to its existing portfolio of high speed optics technologies. In addition, this acquisition will consolidate Finisar's previously announced partnership with u2t on InP-based IQ Mach-Zehnder modulators for 100G coherent applications. These receiver, photodiode and modulator technologies and products, when combined with Finisar's narrow-line width tunable lasers, will provide a full suite of optical components and enable Finisar to offer its customers vertically integrated modules for the 100G coherent metro and long haul markets. In calendar year 2013, u2t had total revenues of approximately $33 million.