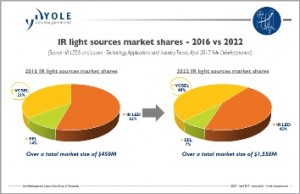 In a depressed visible LED industry, manufacturers are looking at new opportunities to increase their revenues and margins. In this context, the IR LED market is perceived as a potential new 'blue ocean' with attractive opportunities for those players.
While LEDs are important, VCSEL technology is the hot topic. Yole analysts say IR LEDs represented around 65% of the IR light source market in 2016, but this figure is likely to decrease to 45% in 2022.
Development of 3D cameras and autofocus applications, associated with the sensor fusion trend in smartphones and automotive, will strongly drive growth of the IR VCSEL market in the future.
IR VCSELs represent a good compromise between traditional laser diodes, providing coherent and directional light, and IR LEDs, offering lower manufacturing cost and ease of integration. Additionally, IR VCSELs allow new sensing approaches, such as ToF. In this context, the IR VCSEL industry will be at the center of the attention and should experience strong growth in coming years, analysts say. It is also likely that some players will work on both IR LEDs and lasers to maximize their revenues.
Typically, most current IR LEDs are in the 850 nm or 940 nm range. To enable emerging applications such as gas sensors or portable/integrated spectroscopy systems, longer wavelengths will be mandatory.
All these topics will be discussed during the First Executive Forum on Laser Technologies created by Yole's analysts, in collaboration with CIOE. Taking place 6–7 September in Shenzhen, China, the Forum proposes an agenda composed of 4 sessions, 19 presentations, debates and networking.
All along the Forum, industrial experts will debate about the latest innovations, market trends and business opportunities. They will make a special focus on laser manufacturing and analyze the emerging applications. The agenda is now available.