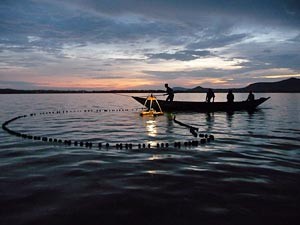 Fishing at night requires light sources, not only to be able to work onboard, but also because certain fish are attracted by light. For years, the fishermen on Lake Victoria in Kenya used expensive and dangerous petroleum lamps on their nighttime fishing trips for small carps, locally called "Omena". As the price for kerosene is high, the fishermen spent up to half of their income for its purchase. This changed four years ago, when the first Osram Energy Hub was inaugurated in Mbita, a rural community on the lake. The goal was to help the fishermen to replace their fossil fueled lamps with solar-powered rechargeable lanterns. The use of the off-grid lighting products helps them save up to 55% of lighting costs for night fishing - a significant amount of their disposable income.
The Osram Energy Hub consists of three mobile components:
A robust lantern-type luminaire with an integrated rechargeable battery giving the choice between a 7W compact fluorescent lamp producing about 400 lumens for approximately 8 hours and a second setting that activates LED, which burn considerably longer.
A luminaire using an Osram lamp producing 600 lumens, or enough light to illuminate a room. With the screw-on cover, it is water and dust resistant.
The O-Box is a case that includes a rechargeable battery and reliable electronic components in a sturdy container. It is rated with 100 Wh and therefore powers an O-Lamp Basic with 11W for over 8 hours and can also be used to recharge mobile phones.
To gain the acceptance of the fishers, it was very important to prove that the fishing yield is of similar size as it was with the use of petroleum lamps, says Jochen Berner, Director Sustainability Development at Osram AG. However, of equal importance for the project partners was the positive outcome for the people around Lake Victoria. Says Berner: "We encourage local fishing households to take care that the money they save from lesser energy costs flows into improvements of their livelihoods, especially those of their children. Thus, the project is being accompanied by social scientific studies."
From humble beginnings, the project evolved to a much larger variety of applications, including on-shore electricity for lighting, IT-training rooms and internet cafes.
It's not just about fishing
From humble beginnings, the project evolved to a much larger variety of applications, including on-shore electricity for lighting, IT-training rooms and internet cafes. Water purifying was already possible in the first stage of the project. Also the technology was improved, e.g., the lead batteries were replaced by Lithium Iron Phosphate battery packs. The project eventually led into the second stage and is now called Water-Energy Hub (WE!Hub). Additional partners in this current second project period include the Global Nature Fund, local electronics distributor Thames Electrical Ltd., the European Union and the Siemens Stifung. Three hubs are already in operation, another five are currently under construction, and five more are currently planned in Kenya.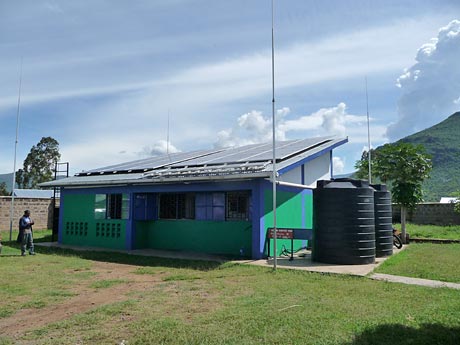 Economically, Berner points out that the Water-Energy Hub project strictly follows social business rules at the moment, but Osram thinks of going large scale with the idea. "About 1.6 billion people worldwide still don't have access to grid-connected electricity and depend on fuel-based lighting, usually burning kerosene for light in different types of lanterns. This is a huge market, and to serve this market adequately we think that we need to create a business model in the future. This could go in the direction of a franchisable model, but by all means has to include a standardised set of equipment which goes along with intensive training of the people on-site."
Written by Andreas Breyer, Senior Editor, Germany, Novus Light Technologies