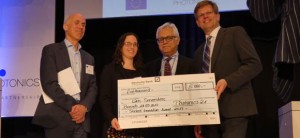 A report on research into optical techniques to improve food safety by detecting possible cancer precursors in potatoes and peanuts brought recognition and a cash award to Vrije Universiteit Brussel PhD student Lien Smeesters. Smeesters was awarded the €5000 2017 Photonics21 Student Innovation Award, sponsored by SPIE, the international society for optics and photonics, and Hamamatsu, at the Photonics21 annual meeting in Brussels, 28–29 March.
In her research, Smeesters uses optical sensing techniques including 1- and 2-photon induced fluorescence spectroscopy, to noninvasively scan cooked potato fries, corn-based snacks and other foodstuffs. With this innovative technique, several tons of products can be screened per hour, without the use of any chemical additives or dyes.
"During the analytical process, when the food products are in free-fall they are scanned by laser," Smeesters explained at the award presentation during the event welcome session.
"Immediately after the scanning, the collected data are processed and the contaminated or unwanted products can be immediately removed by the use of a burst of air. Using this configuration we can successfully classify the healthy and contaminated food kernels with an accuracy that fulfills European food safety standards."
Smeesters is a member of the SPIE VUB Student Chapter, the largest SPIE Student Chapter in Western Europe, and has authored several papers for SPIE conferences and publications. She is a member of Professor Hugo Thienpont's research group.