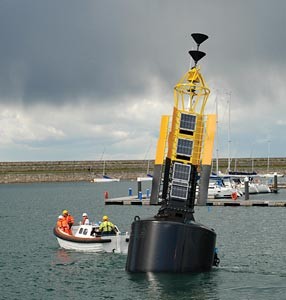 Participants at this year's 2012 Volvo Ocean Race were kept abreast of wind and sea conditions at the finish line in Galway Bay, Ireland thanks to the deployment of a unique eight metre high buoy - which communicated vital meteorological data via Twitter and Facebook.
The so-called 'Galway Twitter Buoy,' kitted out with cutting edge meteorological and oceanographic sensors, was launched from the Commissioners of Irish Lights vessel, Granuaile (see video below), near Mutton Island late last month - and 'tweeted' a constant flow of data from the Bay throughout the duration of the race, which finished on July 3rd.
Sensor technology
The innovative device, which came about as the result of a collaboration between the Commissioners of Irish Lights (CIL), the Marine Institute, Techworks Marine, Smartbay Ireland, and the Irish Maritime and Energy Resource Cluster (IMERC), features self-regulating solar panels and runs on a simple 12V battery.
As Captain Robert McCabe, Head of Marine at Commissioners of Irish Lights explains, three sensor packs were fitted to the buoy and connected to a data logger, which then constructed a MetHydro message (AIS Type 8) for broadcast and transmission over the AIS (Automatic Identification System for Ships) and GSM networks. In total, nine MetOcean 'elements' were broadcast, including average wind speed, average wind direction, wind gust speed, significant wave height, wave period, barometric pressure, water temperature and salinity.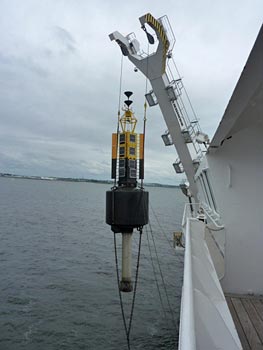 The AIS messages were decoded and the data was made available to the general public via RSS and JSON data feeds. Regular messages containing summary information were also automatically posted to the specially created GalwayBuoy Twitter account. The Twitter information was also supplemented by additional information and graphical content on the GalwayBuoy Facebook site.
"The Marine Showcase at Volvo was about showing the best of Ireland to a world audience. From an Irish Lights perspective we wanted something innovative but rooted in our core business of Aids to Navigation and safety at sea," says McCabe.
"We have considerable in house expertise in marine data sensors and communications ... [and] conceived the idea of a 'Twitter' and social media buoy as a means of engaging a new generation of users with the services we offer," he adds.
Surfing the zeitgeist
The Galway buoy has been well received by a wide range of different people, and now boasts an impressive Twitter following of almost 900. Now that the Volvo Ocean Race is over, these followers are still receiving regular MetOcean data messages, and McCabe explains that feedback (via Twitter) indicates that the user-demographic is made up of a combination of 'sailors, kite surfers, marine biologists and the general public.'
"Our original plan was to end the experiment at the end of the Volvo event and consider the feedback and user reaction over time," says McCabe.
"However, the response has been so overwhelmingly positive that we may continue the service from the buoy when it is placed on its permanent station at the Coningbeg Rock off the Waterford River," he adds.
Written by Andrew Williams, Contributing Editor, UK, Novus Media Today