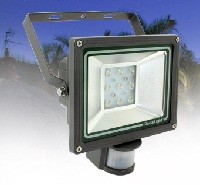 GlacialLight, a division of the Taiwanese technology manufacturer, GlacialTech Inc., has added GL-FL30S-V2, a 28-watt (W) AC-input light-emitting diode (LED) Flood Light with Philips Lumileds LED chips and passive infrared (PIR) motion sensor to its range of LED lighting products. The lightweight (1.4-kilogram, or ~3-pound) floodlight, GL-FL30S-V2, provides illumination suitable for indoor and outdoor retail, commercial and industrial external lighting applications. When installed at a height of between 1.8 metres (m) and 2.5m, this floodlight is a suitable lighting solution for indoor car parks, private driveways and public spaces, such as hallways.
The PIR motion sensor of GL-FL30S-V2 lowers energy bills and reduces light pollution by preventing unnecessary use of lighting and power. The 180° sensor and its reaction time of 0.6 metres per second (m/s) to 1.5m/s ensures that the floodlight switches on as soon as movement is detected.
The GL-FL30S-V2 PIR sensor can be adjusted to detect motion from 3 lux to 2000 lux, making it appropriate for both day and night use. The range of motion sensitivity can also be modified between a distance of 5m and 12m, enabling the sensor to be used in both small and large spaces. The duration of illumination time is also adjustable between a minimum of 10 seconds and a maximum of approximately 7 minutes. The floodlight is available in both cool white and warm white colours.
GlacialLight designed the GL-FL30S-V2 floodlight to contain no hazardous chemicals, such as mercury, and to create no harmful radiation emissions such as ultraviolet (UV) or infrared (IR), making them ecofriendly.