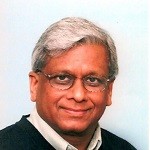 Professor Govind Agrawal, a specialist in optical communications, has been installed as the inaugural recipient of the Dr. James C. Wyant Professorship in Optics at the University of Rochester. Prof. Agrawal joined the faculty of the Institute of Optics in 1989 and is a professor of optics and physics at the university, as well as a senior scientist at the Laboratory for Laser Energetics. This is the second professorship established by Wyant at the University of Rochester. The first honoured his former professor M. Parker Givens and is now held by the chair of the institute, Professor Xi-Cheng Zhang.
At the installation ceremony that took place at Rush Rhees Library on 28 October, Robert L. Clark, senior vice president for research and dean of the Hajim School of Engineering and Applied Sciences, noted the more than 400 research papers and eight books that Agrawal has published and his work in service of the optics community. He is a Fellow of both the IEEE and the Optical Society of America (OSA) and has served on the Board of Directors of the OSA. In 2012 he received the IEEE Photonics Society's Quantum Electronics Award. His teaching was also distinguished this year with the William H. Riker University Award for Graduate Teaching.
At the installation ceremony Agrawal discussed his work on optical communications. He said he was fortunate to spend seven years at AT&T Bell Laboratories in the 1980s working on semiconductor lasers. At that time they were thinking they would use the lasers for optical communications over optical fibres and for sending information. They are now everywhere: at check-out counters in grocery stores, in laser printers, CD players, etc.
Agrawal came to the University of Rochester in 1989 and he used his expertise to set up a course on optical fibre communications, which he has been teaching ever since.