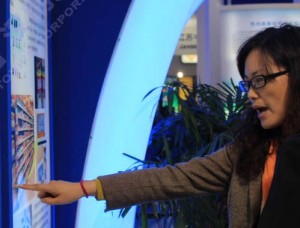 Halation Photonics Corporation announced the completion of its second round of funding. Since its establishment three years ago, Halation has successfully attracted investment and gained acceptance from renowned investment companies and Fortune 500 investment departments from both home and abroad.
With this new round of funding, Halation will accelerate exploring the systematic application of Electronic Shelf Label (ESL) based on Whiteon(R)in the field of retail, warehousing, logistics and other industries. At the same time, Halation will focus on promoting its "Standardized + Customized" Total Solution System, and with this round of financing, it will facilitate the industrialization progress of privacy glass based on Halation Preview Technology and the corresponding production line.
Established in the beginning of 2009, Halation Photonics Corporation has been growing rapidly. In the past three years, Halation has continued increasing company's production and R & D investment in order to build an operation team with powerful scientific research strength, strict production management and quality supervision and efficient marketing development ability, which has laid solid foundation of Halation's sustainable and healthy development. Before this round of financing, Halation products have successfully entered more than 20 first-tier domestic cities, such as Beijing, Shanghai, Suzhou and Tianjin, etc., including the leading hypermarket Wumart Group, and the China National Pharmaceutical Group Corporation (Sinopharm). Meanwhile, Halation has collaborated with various customers from the USA, Japan, Brazil, Mexico, Italy, Turkey, South Africa, India, etc. on the ESL development.
Halation Photonics received funding from Northern Light Venture Capital Early Stage Investment Enterprise and Mitsui & Co. Global Investment Ltd. ("MGI") served as the lead investors, with follow-on investments from Softbank China Venture Capital, China-Singapore Suzhou Industrial Park Ventures Co., Ltd. and Applied Ventures.