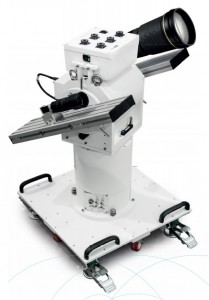 Specialised Imaging announces the LOMA (lightweight optical motion analysis) video tracking mount. Supplied as a compact barebones system or turnkey solution incorporating high-speed IR or visible cameras, LOMA suits security, surveillance and scientific imaging applications.
Robustly constructed, the LOMA tracking mount accommodates large multiple camera payloads (up to 150 kg) enabling high-precision optical tracking even in environments subject to vibration, electromagnetic radiation or extremes in temperature and humidity.
The LOMA tracking mount provides camera positional accuracy and operational flexibility. Independent motors control camera elevation (-20 to + 190°) and provide unlimited azimuth rotation using slip ring technology. Precision motor controls provide smooth auto track functions to capture distant fast moving objects with an angular accuracy of ± 0.002°. High-resolution encoders make the LOMA a complete time space position information (TSPI) solution.