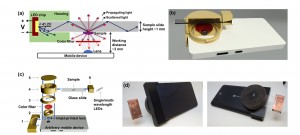 Researchers at the University of Houston (UH), Texas (US), have released an open-source dataset anyone can use to 3D-print a multi-color fluorescence smartphone microscope.
"We applied a lens sticker and 3D-printed components to construct a smartphone microscope capable of fluorescence and dark-field imaging," confirms Wei-Chuan Shih, associate professor of electrical and computer engineering at UH.
The technology's level of simplicity had never been achieved in previous designs and implementations, according to the professor. "This is the lightest and smallest smartphone fluorescence microscope," he says. "It also is extremely easy to operate without the need for optical alignment." The researchers combined simple LED lighting with a 3D-printed cartridge designed to hold a conventional glass slide. Both components attach to the smartphone.
The innovative technology launches the light from the side of the one-millimeter thick slide. The LED light travels through the glass, refracting to allow the observer to view their subjects.
Applications
What promise does this super simple smartphone microscope hold? It can be used for "any scenarios where microscopic details are needed, with or without fluorescence markers," Shih says. The innovation the UH team is sharing with the world by making available the dataset for 3D-printing could impact the design of future optical technologies, such as inkjet-printed optics and personalized smart sensors.
The technology could, for example, bring sophisticated imaging techniques to rural areas and developing countries. It could enable new kinds of fluorescence microscopy applications, which the experts envision being biomedical, point of care, educational, citizen science, diagnostics, global health, environmental and pollution monitoring.
Asked what excites him personally the most about the successful outcome of this research project, the professor responds: "The technology connects easily with any individual who owns a smartphone and can be implemented by individuals without advanced science or engineering background."
Next steps
Now that their open-source dataset has been released, Shih and his colleagues plan to disseminate it to a broad range of audience. All the pieces can be made with a 3D printer, so anyone can built this multi-color fluorescence smartphone microscope and perform lab work that had been left to trained experts before. Shih adds that they also want to focus on further developing interesting functions and applications.
The paper "Open-source do-it-yourself multi-color fluorescence smartphone microscopy," is published in Biomedical Optics Express.
Written by Sandra Henderson, Research Editor, Novus Light Technologies Today