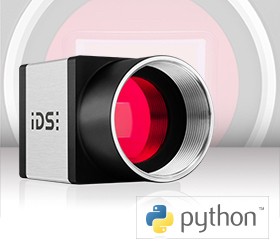 IDS Imaging has broadened the portfolio of its robust Gigabit Ethernet industrial camera series GigE uEye FA, with six new camera variants featuring CMOS sensors from ON Semiconductor. These join the current models containing Sony sensors. In addition to the PYTHON 500 SVGA global shutter sensor, the GigE uEye FA range is also offered with the 1.31 megapixel PYTHON 1300 global shutter sensor and with the 4.92 megapixel CMOS MT9P006STC or MT9P031STM sensors.
All new models of the GigE industrial camera are available as color or monochrome versions and can be ordered either with IDS Software Suite or GigE Vision firmware. The cameras are powered over Ethernet and have been particularly developed for factory automation, e.g., for robot plant construction and mechanical engineering.
Design of the Gigabit Ethernet camera
The housing, lens barrels, connectors and cables of the GigE uEye FA family all meet the requirements for protection code IP65/67. The new UI-5130FA camera model with the SVGA PYTHON 500 global shutter sensor (800 x 600 pixel) is designed entirely with speed in mind. It achieves a frame rate of 205 images per second, but thanks to its horizontal and vertical read-out feature, the image reading rate can be further increased. The Gigabit Ethernet camera is suited to classic machine vision and inspection tasks. The FPN (Fixed Pattern Noise) correction feature implemented via the IDS software provides an improved, stripe-free image quality.
Applications
The UI-5140FA model with the 1.31 megapixel PYTHON 1300 global shutter sensor is suited for capturing moving objects in industrial applications. The sensor's large, light-sensitive pixels in conjunction with the FPN correction feature produce stripe-free images. Additional functions of this industrial camera for machine vision include eight times multi AOI, a line scan mode and HDR mode with knee points. The camera's frame rate of 88 fps can also be increased, thanks to the horizontal and vertical read-out feature.
The UI-5580FA GigE camera is fitted with the 4.92 megapixel MT9P006STC CMOS sensor. The sensor delivers a resolution of 2560 x 1920 pixels as well as rolling and global start shutter features. Its high light sensitivity makes it — as well as the MT9P031STM monochrome equivalent sensor that is integrated in the new UI-5480FA model — an alternative to many CCD sensors currently available on the market.