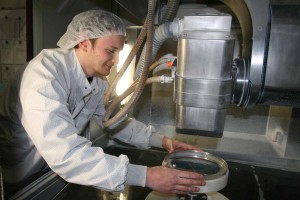 The year 2009 was difficult for many companies. Consistent with the global economic downturn, at Sill Optics the order entry sharply dropped by 30%. On top of this, some customers decided to discontinue their R&D activities, which directly affected the design- and engineering departments.
However, instead of following this tendency, Berndt Zingrebe, CEO and owner of Sill Optics, decided to keep his design- and engineering-, sales- and customer-support teams fully active. The production department went through a cost optimization operation. Already by the end of 2009, customers began to come back. Keeping the entire company operational and material resources available for production, made it possible to meet the new demand immediately.
With this, also the cost for a just-before-the-crisis expansion of assembly, final inspection and mechatronics departments, including extra staff, as well as for a new office and training center, were beginning to pay off. Hereafter, a completely new need emerged for photovoltaics products and it increased rapidly. Zingrebe considers this success as an example of a private owner's long-term view, where otherwise for instance a public company would have had to make much deeper operational cuts to satisfy short-term shareholder interests.
Investing in equipment renewal
As a manufacturer of high-end optics, Sill Optics must align its investment choices with customer requirements. Already a decade earlier, it had become clear that the factory needed investment to enable a full range of production capabilities covering lens sizes from four to 400 mm diameter. Embracing a technological renaissance unseen before, novel machines for small and large lenses were lining up in the plant. Also, the company entered a big step-up challenge: aspheric lens production. Since the laser industry had discovered the benefits of singlet aspheric lenses over traditional multi-element spherical lens objectives, mainly for improved laser beam focus stability, customers encouraged the company to invest in dedicated production and test equipment and develop new product lines.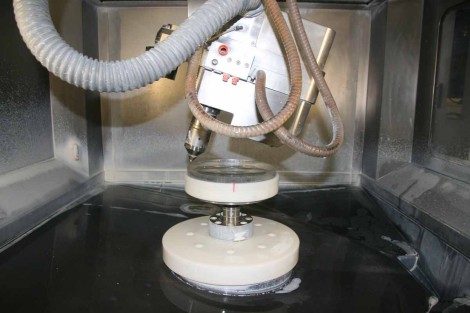 CNC polishing machine
Another customer-driven investment directly aimed at reducing lead times from external coating vendors. For this, Sill Optics has used the past 10 years to set up and expand its own coating facility. As of today, this department includes four vacuum chambers and the corresponding measuring technology, such as spectrophotometers, instruments for determining light absorbance and tools for testing the coating strength. Also coating design simulation and development is available in-house.
Industry 4.0 – Building the connected enterprise
The first suite of machines very quickly touched its borders. Therefore, machine manufacturers found themselves facing the task to improve performance. Correspondingly, better measurement technology was required to reach the higher performance level. This could only be achieved by networking the machines and measurement instruments, to feedback measurement data to the production machines.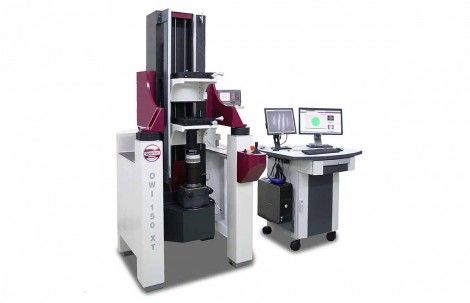 Optotec CNC controlled 6-Axis Optical Machine Center
Next, the company has implemented another major customer requirement. To reduce the risk of production fall-out, all machines and measuring systems are now installed at least as a pair of two. This alone made it necessary to connect all machines in a network, but the efficiency of the complete production and service area benefitted as well.
The connected devices group now has 17 production machines and measuring instruments from three manufacturers in use, which was, together with the required infrastructure, a multi-million Euro investment. Part of this, is a dedicated department for the production of large lenses with zonal polishing for precise surfaces.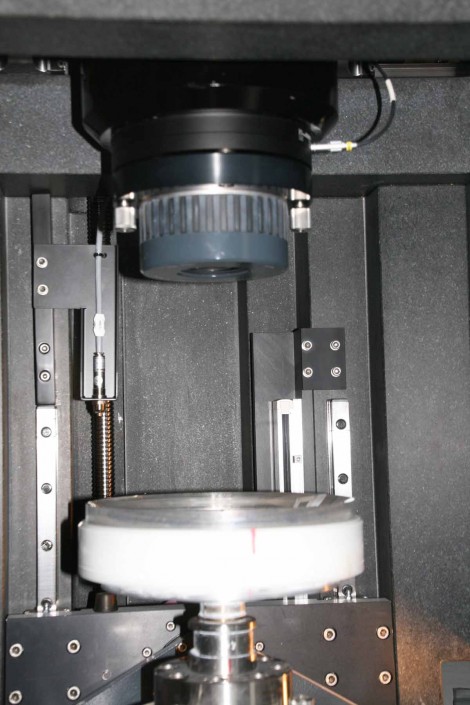 Stitching interferometer
A novel Stitching-Interferometer enables the measurement of the lens surfaces. The connected organization structure of the plant is based on the German REFA, Industry 4.0 standards. REFA is an organization for workplace optimization and production organization. Industry 4.0 is internationally also known as Smart Manufacturing or the Industrial Internet of Things. On a tour through Sill Optics' production facilities, one thing becomes very clear: those companies ignoring Industry 4.0 indeed risk becoming irrelevant. It's not a matter if Industry 4.0 is coming, but how soon.
Made in Germany
Berndt Zingrebe learned in Asia how to setup a profitable precision optics manufacturing company in Germany.
During the 1980's, some larger European and American optics manufacturers acquired factories in Asia and sent their own managers there to lead the plants. Among them was Zingrebe. Under pressure to show the promised Asian low production cost, most of these managers underestimated the real cost and calculated selling prices too low, not covering the many quality issues. Moreover, as Berndt learned, they weren't sufficiently descending into the caverns of the production to create and manage efficient and quality conscious processes. Often, such expat managers returning to their parent companies blamed the Asian workers for the disappointing results. However, Zingrebe argues that these Asian workers were instead highly motivated and well-trainable. The essence of running any optics factory efficiently is adequate training and management support, whether it is located in Asia, Europe or in the USA. Modern production machines can help reducing the human factor and cost, but only as part of the right management approach.
One of the most complex industrial processes, optics production, can benefit greatly from connecting machines and measurement equipment in a network. However, the internet of things is not replacing the human factor. Personal management involvement remains the essence for a successful factory.
This convinced Zingrebe that a management style with in-depth production involvement together with state-of-the-art machines is enabling a precision optics factory in Germany that isn't necessarily producing more expensively than in Asia. The Asian factories are remaining competitive only for large volume standard optics production,
By walking around in his factory several times per day, Berndt is not only keeping an eye on orders-in-process and identifying potential problems, but also finding time for open discussions with workers that may lead to improvements. For him, this connection with the work floor is what is making the difference.
Written by Drs. Robert Molenaar, European Editor, Novus Light Technologies Today