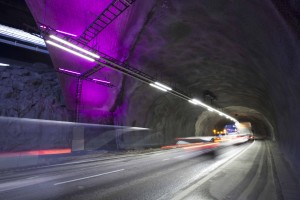 Intelligent lighting innovations are making headlines almost every day; such as the latest hotel lighting that can jazz up lobbies with enticing modes like energize, romance and party. Or the new streetlights in Jaipur (India) where city officials can now maintain lighting remotely.
It's no secret that intelligent lighting is becoming more than a decor in the hallway: lighting is now far more sophisticated, smart and connected. The integration with sensors, software, and controls over a network allows them to perform more functions.
Philips Lighting recently unveiled the iColor Cove--a high-intensity LED fixture capable of producing a number of effects such as aqua water-like illusions and lively color patterns.
The lights are being used to accent spaces like healthcare facilities and children's hospitals. They have been popular with kids, Philips and its clients noted. They give patients and visitors something unique, vibrant, entertaining, and full of life--transforming the atmosphere beyond public expectations.
Other industrial players have different visions in mind.
Intelligent lighting platforms are perfect for gathering real-time information, says Sensity Systems spokesman Mike Lanman. The way it works is that sensors are placed around lighting platforms for motion, proximity, and sound for transceiving data via a wireless network to meet community needs such as video surveillance, environmental monitoring, traffic management, and gathering real-time information.
"Our goal is to turn existing lighting infrastructures into a platform for smart cities," says Sean Harrington from Sensity. He and his colleagues explained, "The question that really launched (our) company is this: If you were going to install all those power supplies up in the air and the labor was already covered by the economics of the LED retrofit, what else could you do while you're up in the air with a screwdriver?"
The company then decided that they were going to combine the vision of the smart city with the emerging phenomenon of LED conversions.
A foundation for smart cities
Sensity has been piloting iintelligent lighting platforms as a multi-service unit for years. One of their latest projects was implementing intelligent lights at the Brea Mall in Orange County, California (US) where over 500 lighting platforms were installed on poles, entrances, and parking garages. The goal was to help the mall ease parking congestion and increase security. Camera sensors on the fixtures interact with computational software to analyze captured videos, identify suspicious activities, and detect parking vacancies. The information can be accessed by officers in the backroom or displayed in real-time.
Similar initiatives are being tested in numerous places, says IoT engineer Wu Chou from Huawei, another player in the intelligent lighting industry. More cities are expressing interest in intelligent lighting technologies. The goal of intelligent lighting installations, officials say, is to make their suburbs and metropolis run more efficiently. Intelligent lighting platforms can aid municipal operations and drive information-based insights. In the case of the Brea Mall, data collected by the lights can not only help the mall optimize its own infrastructure, but as well supply future developers with useful information for designing new infrastructures.
Intelligent lighting is also important on a global level. Advanced controls enable lighting to reduce global energy consumption by as much as 80-90%, Wu estimates. Sensity has components to ease other issues, too, such as climate change and global security, using seismic and environmental sensors to collect information about the temperature, humidity, carbon dioxide levels, radiation, rainfall, and other variable conditions. This information, along with the unique location of each light, allow big data analysts to map out precise environmental details to drive green initiatives.
Recognized for its solutions to address these challenges, Sensity hopes to inspire others "who are doing something tangible to improve our world."
A growing trend
"There is a big move worldwide with smart lights," says Wu.
With intelligent lighting infrastructures being deployed at larger scales, that trend is expected to continue. Soon, Iight sensor networks from buildings to streets may connect us to our environment like never before, meeting public needs more seamlessly than previously possible.
Written by Ella Xiong, a freelance writer and electrical engineer specializing in optics.