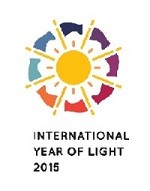 Optics and photonics leaders from around the world including Philip Stahl, president-elect of SPIE, last month presented the widely supported International Year of Light (IYOL) proposal to representatives from the United Nations (UN) Member States and the UN Educational, Scientific and Cultural Organisation (UNESCO) at UN Headquarters in New York, New York (US).
The 16 May 2013 meeting was hosted by the Permanent Mission of Mexico to the UN, which, along with Ghana, New Zealand and the Russian Federation, submitted the original IYOL proposal to the UNESCO Executive Board in October 2012. Following that board's adoption of the proposed resolution, 30 more countries became cosignatories. With UNESCO's endorsement for the IYOL and last month's meeting, the proposal will now move forward toward consideration for adoption by the UN General Assembly.
The delegation of senior researchers in New York also included: Ana María Cetto from the National Autonomous University of Mexico (UNAM); Yanne Chembo Kouomou from the African Physical Society in the Republic of Ghana; John Dudley of the Université de Franche-Comté, president of the European Physical Society in France; and Anthony Johnson of the University of Maryland, Baltimore County, past-president of the Optical Society (OSA) in the US and representative of the International Centre for Theoretical Physics (ICTP) in Italy.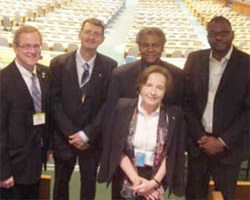 At the UN Headquarters in New York, the IYOL was presented by Ana María Cetto and (back row from left) Philip Stahl, John Dudley, Anthony Johnson and Yanne Chembo Kouomou.
The group addressed the goals and activities of the IYOL, focusing specifically on the role that optics and photonics can play in addressing issues of sustainable development and in promoting science education. Delegates also noted emerging applications in archaeology and cultural heritage, and described the cross-cutting nature of the IYOL themes in other diverse areas from art to philosophy. An important outcome of the meeting was the decision to ensure that the IYOL highlights both the science and the technological applications of light, emphasising the key role of photonics as an enabling technology to solve problems of global concern.
Dr. Eugene Arthurs, chief executive officer of SPIE, and Stahl have served on the international advisory board for the IYOL Steering Committee along with Eustace Dereniak, SPIE immediate past president, of the University of Arizona; Katarina Svanberg, SPIE past president, from Lund University Hospital in Sweden; and Maria Calvo, SPIE fellow, of Universidad Complutense de Madrid in Spain. Angela Guzman SPIE member, of Florida Atlantic University and Chris Dainty, SPIE fellow, of the National University of Ireland serve on the steering committee.