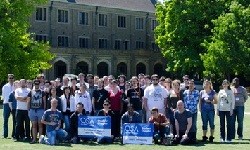 The International OSA Network of Students (IONS) will host the 4th Conference on Optics, Atoms and Laser Applications (KOALA) on 2-7 December 2012 at Griffiths University in Brisbane, Australia. The conference, organised by the Griffith University OSA Student chapter, will feature technical professional development programming for students in the field of optics and photonics. The Optical Society (OSA) is a co-sponsor of the event.
IONS/KOALA 2012's scientific program will include a plenary session with accomplished speakers from the international optics community, poster sessions and contributed talks that cover topics ranging from atom optics to coherent X-rays. Conference attendees can also attend workshops, tour the Griffith University laboratories and attend social events, including a visit to the Gold Coast region in Queensland and dinner on Brisbane's South Bank.
IONS/KOALA 2012 brings together emerging student leaders in various fields of optics research to facilitate discussion and provide networking opportunities. Students can learn about research outside of their field and gain experience communicating their research to peers who may not be familiar with their area of focus.