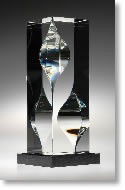 The Optical Society (OSA) and the IEEE Photonics Society are pleased to announce that James Coleman, Intel Alumni Endowed Chair in Electrical and Computer Engineering at the University of Illinois, is the recipient of the 2013 John Tyndall Award. Coleman, also a professor of materials science and engineering, is being recognized for "contributions to semiconductor lasers and photonic materials, processing and device designs, including high reliability strained-layer lasers."
The Tyndall Award recognizes Coleman's research on the development of III-V semiconductor lasers and photonic devices grown by metalorganic chemical vapor deposition (MOCVD), a growth method widely used to make semiconductor devices. At the University of Illinois he and his students study quantum dots, quantum well heterostructures, and low threshold and high-power single mode index guided lasers and arrays.
"Jim is considered a pioneer for his work in photonics and semiconductor lasers," said OSA CEO Elizabeth Rogan. "His research on strained-layer pump lasers, a critical component of all fiber optic telecommunications systems, has facilitated important scientific advances for the global optics community."
Coleman earned his doctoral degree in electrical engineering from the University of Illinois. After working for AT&T Bell Laboratories and Rockwell International, Coleman returned to Illinois to join the faculty. He is a past president of the IEEE Photonics Society and has served as associate editor of IEEE Photonics Technology Letters. He is a fellow of the IEEE, OSA, the American Physical Society, and the American Association for the Advancement of Science and was recently elected to membership in the National Academy of Engineering. He has published more than 400 papers and holds eight patents.
Coleman will be presented the award during the plenary session of the 2013 Optical Fiber Communication Conference and Exposition/National Fiber Optic Engineers Conference (OFC/NFOEC) taking place at the Anaheim Convention Center 17-21 March.
The Tyndall Award is the highest recognition in optical communications and is co-sponsored by OSA and the IEEE Photonics Society. First presented in 1987, the Tyndall Award recognizes an individual who has made pioneering, highly significant, or continuing technical or leadership contributions to fiber optic technology. Corning, Inc. endows the award, a glass sculpture that represents the concept of total internal reflection. The award is named for the 19th century scientist who was the first to demonstrate the phenomenon of internal reflection.