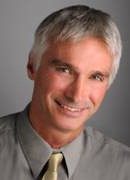 OneChip Photonics announced that it has named Jonathan Boocock as its vice president of product development. Boocock is responsible for the development of OneChip's Photonic Integrated Circuit (PIC)-based Passive Optical Network (PON) transceivers and Bi-directional Optical Sub-Assemblies (BOSAs). He will lead the company's efforts to extend this breakthrough technology into the Next-Generation Data Centre Interconnect (NG DCI) market.
Boocock, 49, has more than 25 years of industry experience and most recently was executive vice president of engineering at BTI Systems Inc., where he managed development of the BTI 7000 Series Service Edge and Aggregation Packet Optical Platform from its inception to its volume delivery to carriers worldwide.
"I am excited to join a company that was the first to develop fully integrated optical modules for the PON market," Boocock said. "I look forward to leading our product development efforts in this and the exploding data communications market. … We have an opportunity, with our PIC technology, to make a significant impact in the PON market and the NG DCI market and we want to bring in additional engineering talent to supplement the strong team that we have in place," Boocock said.