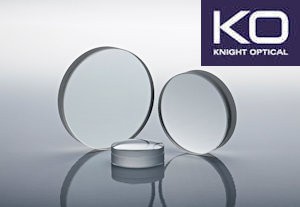 With increasing demand for optics for lidar applications, Knight Optical has increased its production capabilities of Achromatic Doublets
Knight Optical now offers a range of Stock Achromatic Doublet Lenses for use within Wind LiDAR.
Wind lidar systems work by measuring the wind speed and direction using a beam of light typically at 1532nm. These systems which are typically mounted onto the nacelle of windmills determines the wind speed and makes automatic adjustments of blades to increase energy generation.
Achromatic Doublets are typically used in Wind lidar systems and correct for chromatic aberrations which exist in singlet lenses. This is when different wavelengths of light refract at different rates. The doublet lens helps to correct this by facilitating the focusing of the light to the same point. In Wind lidar systems the aim is not to form an image. Instead, a system of doublet and aspheric lenses are typically used to shape the light by focusing highly divergent rays potentially replacing a multi-lens system. This in turn provides the lidar system with a better signal quality, at lower costs whilst making the system more compact.
Knight Optical can supply competitive quotes for custom positive and negative achromatic doublets. These achromatic doublets can also come in the form of aspheric lenses.
We hold a large inventory of Achromatic Doublet Lenses.
Stock sizes from 4mm to 110mm diameter.
Custom sizes available to quotation.
Typical specs:
Material: BK7, SF11
Overall Diameter Tolerance: +0/-0.10mm
Focal Length Tolerance: ± 1.0%
All our Achromatic Doublet Lenses are fully inspected on their quality in our ISO 9001 certified, state-of-the-art Metrology laboratory, using our Trioptics Optispheric, and Starrett AV300.