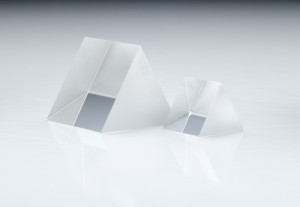 These equilateral dispersing prisms have a simple triangular cross section. Equilateral dispersion prisms are commonly used for wavelength separations, i.e., refracting white light into a rainbow pattern effect.
Depending on the material used, equilateral dispersion prisms can be used over a wide range of wavelengths. Knight Optical offers UV-fused silica prisms for use in the ultra-violet wavelength from 170 nm and other high-index materials used for visible applications. Antireflective coatings are applied to most of our high-index-grade of equilateral dispersion prisms as high-index material is prone to staining and corrosion, which anti-reflective coatings eliminate.
Antireflective coatings also help to improve output of the light as they prevent light loss due to surface reflection. The exit beam is in general at an angle to the input beam, this angle depending on the prism material, the wavelength and the incidence angle.
Equilateral prisms can be manufactured using calcium fluoride in UV or silicon and germanium for thermal imaging use. Silicon is particularly useful at the 3-5µm wavelength and germanium at the 7-14µm wavelength.
Stock equilateral prisms are available to purchase directly from the Knight Optical website.
Materials: UV grade fused silica, F2, SF11 or equivalent
Surface quality: <60-40 scratch/dig
Coating: Antireflective Coating for visible (AV7)
Single layer Mgf² AR for high index, R.avg <0.2%@550nm)
Options Available
AR coatings
Mirror coatings
Stock prisms can be machined thinner.