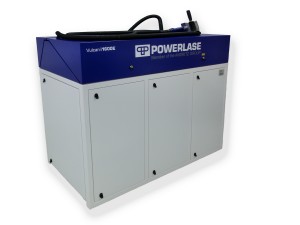 Andritz Powerlase will debut the new Vulcan family of laser-based surface preparation and coating removal systems at Laser World of Photonics, from 26–29 June in Munich, Germany.
With the introduction of the Vulcan platform, Powerlase is building on their experiece with the Rigel i1600 pulsed laser system. However, whereas the Rigel series has primarily targeted and benefited high pulse energy, high-volume materials processing applications (removal of AlSi coatings on tailored blanks, surface polishing and hardening of metals, and cutting/drilling of glass and carbon fiber reinforced plastics), the Vulcan platform has been expressly designed to fully address the requirements for high-volume surface removal (ablation) processes at power levels above 1 kW — coating and paint removal, mold cleaning, surface pre-treatment and restoration.
The Rigel laser system integration provides the Vulcan platform with the same level of pulse parameter flexibility, condition monitoring, beam stability and fiber delivery as the Rigel series. The Vulcan platform also includes a high-speed, compact, portable, fiber-coupled scan head that offers manual and robotic control, while the integrated platform control unit makes the task of investigating ideal process parameters much easier for the user.
While the Vulcan platform will initially operate in the IR, Powerlase will also offer green and UV-based systems that are capable of processing specialty and composite materials much more efficiently than infrared. A much wider range of industry sectors are in need of flexible high-speed surface preparation, such as aerospace and automotive, but also in precision industries such as architectural conservation.